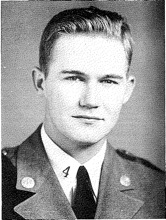 1941

Civil Engineering

Track; Central Dance Association, Decorator; President, Alpha Chi Psi; Company L, Third Battalion, First Regiment.

Texarkana, TX

Army Air Force, First Lieutenant

16th Squadron, 64th Troop Carrier Group

Air Medal with 2 Oak Leaf Clusters

Oct 16, 1918

Nov 24, 1943

Died Non Battle (DNB) in a C-47 crash

Memorialized at North Africa American Cemetery in Carthage, Tunisia and in Hillcrest Cemetery, Texarkana, Texas.

SW
Additional Information
Summary:  Aircraft Accident Report – 
Southerlin was a passenger on a C-47 (41-7811) of the 64
th
 Troop Carrier Command on 24 November 1943.  The aircraft was carrying passengers and freight from Maison Blanche to Oran in Algeria.  At approximately 1000 hours and 15 miles out over the Mediterranean Sea, the right engine started to burn.  The bail out order was given, but the plane lost altitude too quickly to use parachutes.  The plane ditched and all personnel cleared the aircraft and attempted to don 'Mae West' life vests.  Three passengers were picked up by a French fishing boat, but Southerlin was listed as killed.
Related Images Click to Enlarge