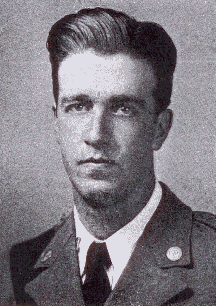 1943

Agricultural Economics

Cadet Sergeant, First Lieutenant; Animal Husbandry Club, Agricultural Economics Club, Clemson Keystone Club, Canterbury Club, Senior Platoon

Abingdon, Maryland

Army, First Lieutenant

407th Infantry Regiment, 102nd Infantry Division

Bronze star with Oak Leaf Cluster, Purple Heart with Oak Leaf Cluster.

Feb 7, 1919

Feb 26, 1945

Died of wounds - Germany

Netherlands AMC, Plot P, Row 6, Grave 16.

SW
Additional Information
The division then consolidated along the Roer River and conducted defensive patrolling (4 December – 19 December), when it took over the Wurm River sector from Wurm to Barmen and trained for river crossings.  The division conducted a minor operation with the 11th Cavalry Group on January 26 1945 to clear the Brachelen-Himmerich-Randerath triangle west of the Roer against negligible resistance.  The division crossed the Roer at Roerdorf on February 23rd and by February 25th, the 405th Inf Regt captured Ralshoven, the 406th Inf Regt cleared Katzem, and the 407th Inf Regt took Lovenich.  Erkelenz fell the next day and on the 27th the 407th Inf Regt seized Rheindahlen.
Extract from:
https://www.eucmh.com/2009/07/17/oob-102nd-infantry-division-1944-1945/
There is evidence that his great-grandfather was the John Thomson Ford who owned Ford's Theater in Washington, DC where Lincoln was assassinated.
Related Images Click to Enlarge
Extra Documents
Two Bronze Stars – Vignette written by Kelly Durham for The Echo