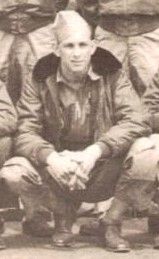 1946

Architecture

Ninety Six, SC

Army Air Force, Staff Sergeant

421 Bomb Sq, 504 Bomb Gp

Nov 3, 1923

May 24, 1945

Killed in Action - Crashed during mission over Tokyo.

Memorial marker in Elmwood Cemetery, Ninety Six, SC

NE
Additional Information
Missing Air Crew Report #14483
21st AIR CMD South, Group 504th Bomb Squadron
Mission: Bombing
Destination: Tokyo
8:00pm May 23, 1945
Last know location: Tinian Mariana Islands
Type of aircraft: B29, 42-65266 (The Gamecock)
According to Missing Air Crew Report 14483: Aircraft was presumed to have been lost over the target.  No radio contact was made after take-off from Tinian, Mariana Islands at 8:11 pm, 23 MAY 1945.  No search was conducted.
Crew: 1
st
 LT Gran, Erik H.
2
nd
 LT Boggan, Robert T. [PILOT] 2
nd
 LT Swetsky, Martin
2
nd
 LT Bensems, Robert J.
SGT. Stalnaker, John W.
SGT. Naschold, Karl F. Jr.
SGT. Gorrie, Edward
2
nd
 LT Martin, Wayne W.
CPL. Macomb, James T.
CPL. MacDonald, Charles W.   Addendum: When searching for a photo of "The Gamecock" I found this comment – 
Crew Chief Brown AC 1/Lt.Gran Shot down May 24,45 over Tokyo.  Lt.Gran and 7 crew KIA 3 survived.  
I cannot explain the inconsistency between this and the comment above indicating that no search was conducted. Dave Lyle, Clemson Class of '68
Related Images Click to Enlarge
Extra Documents
Vignette in The Echo written by Kelly Durham – Target Tokyo