John Wallace Cathcart, II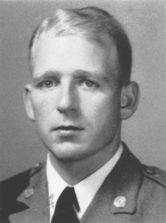 1939

General Science

Freshman Football; Fairfield County Club; Pre Med Club; Sharpshooters

Winnsboro, South Carolina

Wife, Margaret Caughman; Daughter, Virginia

Army, Captain

Battalion Aid Surgeon, 1st Battalion, 21st Infantry, 24th Division

Purple Heart

Jan 31, 1918

May 3, 1945

Killed in Action by a Japanese sniper in fighting near Mintai, Mindanao

Bethel ARP Church, Winnsboro, SC

SW
Personal Remembrances
The son of Samuel C. and Tirzah K. Cathcart, John was born in Winnsboro on January 31, 1918.  He entered Clemson College in 1935.  At Clemson, he played freshman football, participated in the Fairfield County and Pre-Med clubs, and graduated with the Class of 1939 with a BS degree in General Science.  In 1942 he received his M.D. degree from the South Carolina Medical College, where he was a member of the AKK medical fraternity.  He next served a one-year internship at the Columbia hospital.
On February 21, 1944, John was married to Margaret Caughman, then a supervisor at a Columbia hospital.  Three weeks later, on March 10, he reported to Carlisle Barracks, PA, then to Breckenridge, KY for six weeks of intensive training.  In August of 1944 he was shipped overseas as a 1st Lieutenant.  He was promoted to Captain in January, 1945.  John first saw active service on Leyte, from whence he was sent to a combat area on Mindanao.  A few weeks later, while serving as Battalion Aide Surgeon with a field unit of the 1st Battalion, 21st Infantry, 24th Division, Captain Cathcart was killed in action.  He had planned to return to Winnsboro after military service to practice medicine there.
In December 1944, John's only child, Virginia, whom he never saw, was born in Columbia.  Both she and her mother Margaret C. Cathcart now live in Charleston, SC.  Virginia is the wife of Dr. Joseph G. Reves, and Margaret is in a retirement center, The Cloister, located at 3 Bishop Gadsden Way, Charleston.
Biography written by James O, Sweeny, Clemson College Class of 1939.
___________________________
A Letter to Virginia, A Daughter He Never Knew
AMERICAN RED CROSS
January 19, 1945
My Darling Daughter,
A telegram from your Uncle William came today telling of your blessed arrival.  I am so sorry that I could not be there to greet you personally, but "Uncle Sam" thought it best for me to be on a small island in the Philippines to help defeat the Japs and establish a lasting peace in which you and countless other children can grow.  Though I could not be there, your dear, sweet mother was -- not only by necessity, but because she wanted to be, and as you grow into childhood, adolescence, and on to be a lady, she will always be with you to guide and care for you.  In this she will do a wonderful job, and you will grow to be a wonderful, beautiful lady just as she is.  During your first year, or even perhaps two, I cannot be there to help with your rearing, but she will be there and will do a wonderful job.
It is a pity that you were born into such a war torn world as this, but by the time you grow up to understand, all this will be in the past, and I shall be home to help your mother and you.  By then you will be a little lady walking around and prattling away in your baby talk.  When I show up, you will probably not know me, but we shall get to be wonderful pals, and the three of us will have grand times together -- and perhaps later there will even be a fourth to join our midst.
I wish your Grandmother Cathcart could have lived to see you, for she would have been so proud to hold you in her loving arms.  She was a truly wonderful person, and I pray you inherit some of her fine traits along with those from your mother.
As I write this, I do not know very much about you, for the telegram only said: "Daughter born, both well, best wishes from all of us."  So you see, except for telling me that you are born and well and that you are a daughter, it said very little -- and at the same time, it said a lot, for it let me know of my first daughter, who is well, and that her dear mother is also.  But I can imagine you are a plump, rosy cheek little girl with a twinkle in your brown eyes, and fine brown hair on your darling head -- also that you have five fingers on each hand and five toes on each foot.  I know with a mother like you have, that you are a beautiful, precious child, and I love you very much, my baby.
By making your appearance you have made me the proudest father anywhere and as you grow, that pride in you will grow along side.  There are so many things that I would like to write you that all of them seem to run together in a jumble, but once we are together, we can have wonderful times talking together and telling stories to each other.
It is almost dark now, and as yet we have no lights, so I shall have to close for this time. I love you dearly and can hardly wait until I can see and hold you in my arms.
All my love,
Your adoring Daddy
P.S. Tell your sweet, darling mother hello for me and that I love her very much, not only for giving me such a fine daughter, but also for her own, dear, sweet self.
Daddy
Additional Information
He received his MD degree from the SC Medical College, Charleston.
Related Images Click to Enlarge
Extra Documents
A Telegram, A Letter – Vignette in The Echo written by Kelly Durham