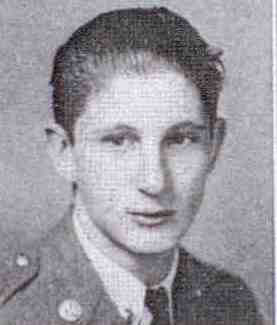 1944

Textile Engineering

Fairlawn, NJ

Army, Staff Sergeant

1 BN, 163 Inf Reg, 41 Inf Div

Purple Heart

Jun 27, 1923

Mar 12, 1945

Killed in Action on Mindanao

Temple Emanuel of North Jersey Cemetery, Saddlebrook, NJ

NW
Additional Information
Staff Sgt. Joseph Immerman, T.E., '41-43, of Fairlawn, NY, was killed in action March 12, 1945 on Mindanao, according to a message from the War Department.  He is the son of Mr. and Mrs. Arthur Immerman of Fairlawn.
Extracted from The Tiger the Clemson student newspaper.
After bombings of the landing areas by the 13th Air Force and a three-day bombardment by the U.S.Navy, the 162nd and 163rd Infantry Regiments landed three miles (5 km) west of Zamboanga City.  Japanese opposition to the landings were minimal, and the 41st Division troops quickly captured the city, which was decimated by the pre-invasion bombardments.  The next day, 11 March, the Americans encountered strong resistance when they attacked Japanese positions in the hills, overlooking the coastal plain.  For two weeks, U.S. infantry, ably supported by Marine aviation and naval gunfire, fought the Japanese along a five-mile (8 km) front, in terrain so rugged that tanks could not be used, and in positions heavily fortified with deep earthen emplacements, barbed wire, minefields, and booby traps.
On 23 March, after heavy fighting, the center of the Japanese line finally broke, and in the next three days, the 162nd Infantry continued eliminating resistance in the central sector.  The 186th Infantry, replacing the 163rd, continued the attack and the 54th Japanese IMB was forced to pull out a week later, harried by guerrilla units, retreating through the peninsula and into the jungle.  After some time, mopping up operations resulted in 220 Americans killed compared with 6,400 Japanese dead.
Extract from: https://en.wikipedia.org/wiki/Battle_of_Mindanao
1/Bn 163 INF at
Zamboanga: Pasananca and the Reservoir Perimeter
By Dr. Hargis Westerfield , Division Historian
This is the saga of 1/Bn 163 Inf's Zamboanga Battle in the overgrown Tumaga River coconut groves, against the Jap Marines of 33 Naval Guard and 54 Independent Mixed Brigade's FA.  Beaching after air-strikes and 162's first waves, 1/Bn landed at San Mateo, under light Jap FA and mortar fire.  As his LCI grounded, Hq runner James thought that all the Jap 20mm guns in Zambo were firing around B Co had to call for 3 tanks; they evidently stashed pill-boxes before us.  Meanwhile on B's right, 'A' evidently quelled their Japs with mortars and bazookas and would have advanced at 1510.  But a pillbox held up B's right flank, with a Jap crossfire from the left where 2/Bn was held up.
That night, A Co on B's right hand had to set up in an isolated perimeter.  On that 12 Mar, 1/Bn had made only 400 yards throughcoconut groves from the south to north of Santa Maria. ' B' lost most men.  When 1/Lt Starr led his Pln up a draw, a HMG or 20 mm shell struck him.  We luckily saved him.  Killed that day were Frazier, Sgt Immerman, with Flaig to die of wounds 14 Mar.  Besides Starr, Sgt Coop was seriously wounded; Czarnic, Humphreys, Fishman and Zapp slightly wounded. T/Sgt Davis of Hq Co was seriously wounded; T/5 Stern slightly wounded.  'A' lost Collins, lightly wounded. Fighting for both Bns, 716 Bn's tanks had killed 6 20 mm guns, several MGs.  And 146 FA had 2 direct hits on Jap 75s.  After all-night harassment, 146 FA reported a great decrease in Jap FA fire.
Related Images Click to Enlarge