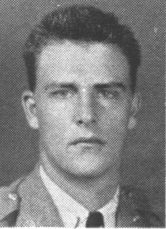 1939

Travelers Rest, South Carolina

Joseph was survived by his parents; brothers Charles L. Cunningham and Norwood Cunningham; and two sisters, Evelyn and Mary Ellen Cunningham. He never married

Army, First Lieutenant

435th Bomb Squadron; 19th Bomb Group

Purple Heart, Air Medal

November 1916

Aug 14, 1942

Missing in action.  His aircraft took off from a reconnaissance mission over Gasmata and Rabaul and did not return.  

Memorialized at Manila American Cemetery and Memorial

SE
Personal Remembrances
Lt. Cunningham was born in November, 1916 in Travelers Rest, SC, a son of Sloan B. and Mable B. Cunningham.  His early schooling was in Travelers Rest, and he entered Clemson in 1935, although he was only there for two years.  Joseph joined the armed forces before the beginning of the war, and was trained as a bombardier by the Air Force.  On December 6th, 1941, he left the states with other members of a bomber crew, and landed in Hawaii in time to experience the Japanese attack on Pearl Harbor.  The crew was then shipped to Australia, and became a part of the 435th Bomber Squadron flying B-17s (Flying Fortresses) when it was organized on March 26, 1942 as essentially a reconnaissance squadron.
On August 14th, 1942, one 435th plane, the "Chief Seattle", took off for a reconnaissance mission over Gasmata and Rabaul.  It didn't return.  Not a word was broadcast by radio.  No sign of wreckage has ever been located.  The plane flew alone as do the reconnaissance planes and so there was no one to come back and tell the story.  Most of the crew had participated in the MacArthur evacuation.  The bombardier on that fatal flight was Lieutenant Joe Cunningham of Travelers Rest, SC.  He is described by a wartime friend as follows: "Long before daylight one August morning, I watched "Chief Seattle" take to the air, from a landing strip somewhere in the interior of New Guinea... (The) bombardier was in Hawaii when we received orders to go south.  We were the first and we needed the best Bombardiers.  They gave us Lieutenant Joe Cunningham, a well built, quiet boy from Travelers Rest, South Carolina.  The Hawaiian Department had not made a mistake.  He was one of our best and had done his share in the Coral Sea Battle, New Guinea and New Britain areas.  Dropping bombs on ships, airdromes and then shooting his way back home by manning a gun down in the nose."
On September 16, 1945 the War Department listed him as missing in action, and he is now carried on the World War II Honor Roll as a First Lieutenant and inexplicably as having died on December 7, 1945.  For his service, he was awarded the Air Medal and the Purple Heart.
Biography written by James O, Sweeny, Clemson College Class of 1939.
Additional Information
Last Known Activity
Joseph Ralph Cunningham was born in Travelers Rest, South Carolina in November 1916, the son of Sloan B. and Mable B. Cunningham.  He was educated in the Travelers Rest school system, graduating from high school in 1935.
According to the NARA enlistment record, he enlisted in Greenville, South Carolina on July 21, 1941 for the aviation cadet program.  The record also states he was single, had completed 2 years of college, and had been employed in the textile manufacturing trade.  It also stated he enlisted from the Regular Reserves, although no time elements are given.
He was trained as a bombardier,and assigned to the 14th Bomb Squadron in California.  The unit left there on December 6, 1941 for Hawaii, arriving just as the Japanese attacked Pearl Harbor.  The unit was moved to a temporary field and later participated in General MacArthur's departure from the Philippines.
The unit arrived in Australia and underwent a number of reorganizations.  It essentially became a reconnaissance unit, but carried the 435th Bomb Squadron designation.  On August 14, 1942, the aircraft Lt Cunningham was assigned to left Townsville, Australia on a recon run to Gasmata and Rabaul on New Guinea.  The aircraft never reported in nor was it ever seen again.  Speculation is that it was intercepted by Japanese fighters and shot down.
None of the crew were ever recovered, and all were declared dead on December 5, 1945.  All are remembered on the Walls of the Missing in Manila American Cemetery and Memorial at Fort Bonafacio, the Philippines.
Comments/Citation
Lt Joseph Cunningham was acting as bombardier on B-17E # 41-2656, nicknamed "Chief Seattle," assigned to the 435th Bomb Squadron.  This aircraft was one of many that had been paid for by citizens in a patriotic gesture.  A bond drive in Seattle raised $280,535 to pay for it.  It was presented to the Army Air Corps.  It flew 1 mission from Townsville, and on the 2nd mission, it was lost.
Missing Air Crew Report 16345 was issued, and identifies the crew as:
1 Lt Wilson L. Clark    p
F/Sgt George S. Andrews    c-p
2 Lt Hubert S. Mobley    nav
1 Lt Joseph R. Cunningham   bomb
SSgt Elwyn O. Rahier    eng/tt gun
SSgt John J. Dunbar    asst eng
TSgt Irving W. McMichael    r/o
Cpl Charles H. Hartman   asst r/o
Pvt David B. Beattie    AVS
Cpl Richard K. Pastor   gunner
The above was copied from Together We Served Website
Related Images Click to Enlarge
Extra Documents
Vignette in The Echo Written by Kelly Durham – Joseph Cunningham Witnessed America's Entry into WWII