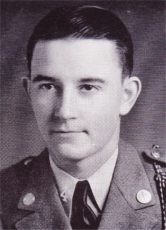 1942

Agricultural Economics

Blue Key 3, 4; Scabbard and Blade 3, 4; Pershing Rifles; Young Democrats 2, 4, Secretary 3; Pee Deeans 1, 2, Secretary 3, President 4; Junior Staff Club, President 3; Agricultural Economics Club 4, Secretary 3; Sigma Phi 3, 4; YMCA Cabinet 2, 3, 4; YMCA Councils 1, 2, 3, 4; Tiger Brotherhood 3, Vice-President 4; Alpha Phi Omega 2, 4, Secretary 3; Chairman Senior Council; Vice-President Sophomore Class; President Junior Class; President Senior Class; Chief Commencement Marshal; Sophomore, Junior, Senior Platoons; Who's Who Among Students in American Universities and Colleges 3; Master Cadet, Sharpshooter, ROTC Camp, Clemson, SC. 

Claussen, South Carolina

He was survived by his mother, Mrs. Suanne Dusenbury; his widow, Mrs. Martha Rollins Dusenbury of Florence; two daughters, Mrs. Thomas G. Moore of Charleston and Mrs. Michael A. McCrory of Fayetteville, NC; a son, Second Lieutenant Timothy A. Dusenbury, USMC; two brothers, Richard C. Dusenbury and Bernard D. Dusenbury, both of Florence; and two grandsons. 

Marine Corps, Major

Company A, 1st Battalion, 5th Regiment, 1st Marine

Navy Cross, Silver Star, and Purple Heart

Apr 1, 1921

Jan 30, 1976

Died of wounds received in Okinawa on May 7, 1945.

He was buried with military honors at Mount Hope Cemetery in Florence. 

SE
Additional Information
He was commissioned a Second Lieutenant in the US Marine Corps in 1942 and served in the southwest Pacific as a company commander.  He joined the First Marine Division in 1944 and shortly thereafter was wounded in the battle for Peleliu.  He was awarded the Silver Star for his gallantry and leadership in Peleliu.
Two days before the end of the Okinawa campaign, Captain Dusenbury and his men were involved in wiping out remaining pockets of resistance.  A Japanese sniper shot him in the back at the battle of Shuri Castle, severing his spinal cord and damaging his liver and kidneys.  After a long recovery, he returned to his home in Florence in 1946, and retired as a Major.  He had to spend the rest of his days in a wheelchair, but he remained active, both as a farmer and as a South Carolina legislator.  He also received Clemson's Alumni Distinguished Service Award.  In 1976 he died of complications of his long-endured injury.
He served in the SC State House of Representatives from 1948-1950 and 1952-1954.  He then served with a number of civic, veterans, and political organizations.
The Julian Delano Dusenbury Presidential Scholarship ($1500) at Clemson is given in his memory.  Marine Corps League Detachment 410 in Florence, SC is named in his memory.
Navy Cross Citation reads:  The President of the United States of America takes pleasure in presenting the Navy Cross to Captain Julian D. Dusenbury (MCSN: )-10785), United States Marine Corps (Reserve), for extraordinary heroism as Commanding Officer of Company A, First Battalion, Fifth Marines, FIRST Marine Division, in action against enemy Japanese forces on Okinawa, Ryukyu Islands, 7 May 1945.  During an assault against strongly fortified enemy positions which threatened the advance of the entire front, Captain Dusenbury repeatedly braved intense hostile fire to ensure the success of his company's advance.  When one of the platoon commanders was seriously wounded during a critical phase of the assault, he reorganized the platoon and, in the face of intensified enemy fire, led it in continuing the attack.  Fearlessly moving among his entire company front to coordinate the advance of the troops with supporting tanks, he personally directed the fire of the tanks in destroying several Japanese strong points.  Although painfully wounded during the initial stages of the advance, he refused to be evacuated and continued to direct the attack until Japanese resistance was broken and the positions overrun.  By his initiative and indominitable fighting spirit, Captain Dusenbury served as an inspiration to his men, and his leadership throughout was in keeping with the highest traditions of the United States Naval Service.  Action Date: 7-May-45
Silver Star – Awarded for actions during the World War II
The President of the United States of America takes pleasure in presenting the Silver Star to Captain Julian D. Dusenbury (MCSN: 0-10785), United States Marine Corps Reserve, for conspicuous gallantry and intrepidity as Commanding Officer, Company A, First Battalion, Fifth Marines, FIRST Marine Division, in action against enemy Japanese forces on Peleliu Island, Palau Group, 15 and 16 September 1944.  Gallantly leading his troops in the assault of the enemy-held beachhead on D-Day, Captain Dusenbury braved the concentrated enemy fire to direct his men in repulsing two enemy tank counterattacks, thereby destroying several tanks.  Under intense artillery, mortar and machine-gun fire, he led his assault company across fourteen hundred yards of open airfield and, although severely wounded by shell fragments after reaching his objective at the far side of the airfield, continued to direct his troops in driving the Japanese from strongly fortified positions until he was ordered by the Battalion Commander to return to the rear for treatment.  By his aggressive fighting spirit and inspiring leadership under fire, Captain Dusenbury contributed materially to the success of his battalion and upheld the highest traditions of the United States Naval Service.General Orders: Commanding General, Fleet Marine Force Pacific: Serial 00436
Related Images Click to Enlarge