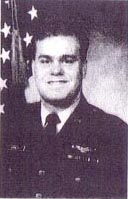 1988

Mechanical Engineering

President Student Alumni Council; Tiger Brotherhood; Blue Key; Mortar Board

Kingsport, Tennessee

Air Force, Captain

Dyess Air Force Base, Abilene, Texas

Jan 1, 1970

Cpt. Kevin N. Earnest, Aircraft Commander and eight others were killed when the C-130 carrying the Presidential Limos crashed near Jackson Hole, Wyoming, August 18, 1996.   

SW
Personal Remembrances
Personal remembrances and tributes:
A few highlights of Captain Earnest's life:
•    He was an Eagle Scout in 1982
•    Earned a private pilot's license while in high school
•    Student Body President at Dobyns-Bennett High School
•    President of the Clemson Student Alumni Council
•    Served as a pilot instructor
"The Captain Kevin N. Earnest Leadership Award, established in the Fall 1997, is presented each year to a rising senior AFROTC Cadet who has demonstrated outstanding leadership within the Air Force ROTC and who has also demonstrated leadership within other Clemson University Student organizations.
After Captain Earnest's death, three friends, Leonard Freiburg, Captain Scott Bowen and Captain Christopher Darling, began work to establish the award.  The first award was presented to Cadet Walter T. Burke III, on April 9, 1998." - Extracted from a Leadership Award brochure
"Part of the ceremony on April 6, 2000 was the announcement of the Air Force ROTC recipient of the Kevin N. Earnest Leadership Award.  The scholarship honors the memory of the 1988 alumnus and Air Force captain who was killed while serving as commander of the presidential support plane that crashed in 1996. Kevin Earnest's father, Zellie G. Earnest, who was in attendance at the Pass in Review, reported something that best illustrates the hallowed sense of Bowman Field.  He said that after the ceremony, he heard a loud "Sir!" He turned to find a young African American cadet facing him and standing at full attention.  The Clemson cadet saluted him saying, "Sir, this is for your son!" then disappeared into the crowd.
The father said little in his life has touched him as much as that single salute.  Such a thoughtful, nearly automatic act of respect from one cadet to the father of an earlier one epitomizes the sense of timeless connection Bowman Field holds for Clemson." - Extracted from: https://www.allenscreations.com/ssobfn.html 
Thank you for your outstanding work on the Clemson Scroll of Honor project.
I visited your website to view the page for my friend and classmate Kevin N.
Earnest, Class of 1988.
I saw your invitation to submit photographs, so I thought this one might be
useful.  I snapped this shot in July 2009 when I traveled to Jackson Hole to
visit the memorial to the Crew of Havoc 58.  This view shows the memorial
plaque looking east at Sleeping Indian Mountain a couple of miles away.  The
actual crash site is just at the crest of the ridge in the center of the
frame, and is accessible only by foot or horseback.
Sincerely,
"Cod"
Lt Col Christopher O. Darling
Deputy Commander
451st Expeditionary Mission Support Group (AFCENT)
Additional Information
"All nine people on board a White House support plane were killed late Saturday (10:48pm MDT), when it crashed into Sheep Mountain (also known as Sleeping Indian Mountain) near Jackson Hole, Wyoming.  The aircraft was en route from Jackson Hole to John F. Kennedy International airport.  The Air Force Lockheed Martin C-130 Hercules transport aircraft was carrying a presidential vehicle and many pieces of luggage, all related to the president's vacation (50th birthday celebration in the Grand Tetons).
President Clinton said Sunday afternoon that he was told the pilot was attempting to return to the Jackson Hole airport when it crashed (CNN news report).  The Air Force reported finding no evidence of an in-flight mechanical emergency after examining the flight data and flight voice recorders and could not find evidence that the pilot radioed mechanical trouble before crashing into the mountainside as reported by the White House.  The victims included 8 crew members and one Secret Service agent.
The aircraft and crew were stationed out of Dyess Air Force Base, Abilene, Texas." – Copied from: https://www.theforbiddenknowledge.com/hardtruth/clintonbodycountupdate.htm
Related Images Click to Enlarge