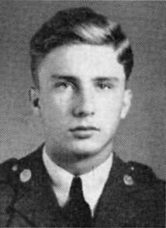 1945

Textiles

Greensboro, NC

Army Air Force, Second Lieutenant

369th Fighter Squadron, 359th Fighter Group (P-51C)

Jun 9, 1924

Aug 10, 1944

Died Non Battle - Crashed in training flight in England

Buried at Cambridge American Cemetery, Cambridge, England Plot: E, Row: 3, Grave: 18

SE
Additional Information
ID: 0-823914
Accident report #45-8-10-520
Aircraft Model: P-51
Organization: 8th FC 8th AF
Location: AAF F-133;
roup: 359th Fitr.; Squadron: 359th Fitr.
Place of Departure: AAF F-133
Target or intended destination: local
Type of Mission: Training
Date: 10 August 1944;
Location of Crash: Garboldisham, Norfolk County England
Reason aircraft was lost: Undetermined
Number of Persons aboard aircraft: 1
List of Crew (Crew position, Name, Rank, Status)
Pilot-Bearden, Lawrence A. 2nd Lt.-fatal
Narrative of eyewitness statements:
1. While on a routine training flight, the plane left a string formation for some undetermined reason before diving into the ground from 8000 feet.
2. When last seen by another pilot in the formation the plane was still intact.  The cause of the accident is undetermined, but lack of oxygen has been ruled out.
Related Images Click to Enlarge
Extra Documents
Cut Short – Vignette in The Echo written by Kelly Durham