Lethco Augustus Groce, Jr.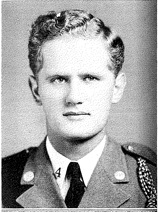 1941

Architecture

Minarets; Pershing Rifles; Sophomore, Junior, Senior Platoon; Marksman, ROTC Camp, Fort McClellan, AL; Spartanburg County Club; Company B, First Battalion, First Regiment.

Lyman, South Carolina

Army Air Force, Second Lieutenant

16th Bomb Squadron, 27th Bomb Group

May 13, 1920

Sep 5, 1942

Died Non-Battle. Killed with the rest of the crew of his Douglas A-20B Havoc bomber when it crashed on a training mission near Hattiesburg, MS.

Wellford Cemetery, Wellford, SC

SE
Additional Information
While assigned to the 16th Bomb Squadron (L) at Hattiesburg (MS) Army Air Base, Groce was dispatched as co-pilot of an A-20B, aircraft #41-2962.  The aircraft was piloted by 2LT George Pritchard and carried two additional crew members, Sgt. George Kaiser and St. Sgt. Floyd Lones.
At approximately 1400 hours on September 5, 1942, 7 miles north of New Augusta, MS, while flying in a two ship formation, Groce's aircraft was struck by the left wing of an aircraft piloted by LT Lawrence Boyer.  The collision carried away the right elevator and horizontal stabilizer of Groce's aircraft which then spun into the ground killing its crew.  (Based on an Accident Report)
Other: Lieutenant L. A. Groce, Jr., architectural student of the class of 1941 from Lyman, SC, graduated from the Wellford Lyman High School.  He, the son of Mr. and Mrs. L. A. Groce, was very interested in violin, art, and piano.  At Clemson Lieut. Groce was a member of the Architectural Fraternity, the Pershing Rifles, the Spartanburg County Club, the Sophomore, Junior, and the Senior Platoons, and he was the best drilled sergeant of the third battalion, first regiment.  After graduation, he was transferred from the infantry to the air corps.  He received his wings at Valdosta, GA, and later was attached to the 16th Bomb Squadron at the Hattiesburg Air Base, Hattiesburg, Mississippi.  His life ended in an accident on September 5, 1942, just after he had been made leader of his squadron.  He became a member of the Wellford Baptist Church of Lyman, SC, when he was nine years old and continued his membership until his death.  He is buried at the Wellford Cemetery.  Extract from The Tiger the Clemson student newspaper.  
Related Images Click to Enlarge
Extra Documents
Vignette in The Echo written by Kelly Durham – Accidents