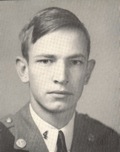 1943

Vocational Agricultural Education, B.S.

Cadet Second Lieutenant; Honors 1, High Honors 2, 3; Alpha Tau Alpha; Phi Kappa Phi; F.F.A.

Russellville, South Carolina

He was survived by his parents, Mr. Ira C. Cox and Mrs. Lillah Russell Cox; and two brothers, Ira C. Cox, Jr., and Edward C. Cox.  

Army, Staff Sergeant

Company C, 311th Infantry Regiment, 78th Infantry Division

Purple Heart, Bronze Star Medal with Oak Leaf Cluster, and Combat Infantry Badge.

Jan 29, 1923

Feb 3, 1945

Killed in Action near Dedenborn, Germany

St. Stephen's Episcopal Church Cemetery

NE
Additional Information
The following was submitted by Stan Polny, the historian of the 78th ID Association.
Staff Sergeant Lionel R. Cox, ASN 14116374, was a member of C Company, 311th Infantry Regiment and was killed on February 3, 1945.  He enlisted in the army on October 14, 1942 at Andrews, SC.  In addition to the Purple Heart he was also awarded two Bronze Star Medals.  He no doubt was awarded a Combat Infantryman Badge and thus is eligible for another award of the Bronze Star Medal.  On the date of his death, C Company was involved in an operation that resulted in approximately 12 men being awarded the Silver Star Medal.
Related Images Click to Enlarge
Extra Documents
Not Once, Twice – Vignette written by Kelly Durham for The Echo