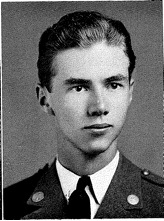 1941

General Science

Cadet Major, Brigade Adjutant; Honors; Scabbard and Blade; Sigma Tau Epsilon, Secretary-Treasurer; Phi Kappa Phi; Junior Staff Club, Secretary-Treasurer; Commencement Marshal; YMCA Council; Senior Platoon; Best Drilled Corporal in Brigade; Best Drilled Sergeant in Brigade; Who's Who; Marksman, ROTC Camp, Fort McClellan, AL; Honor Military Graduate.

Rainelle, WV

Army Air Force, Captain

316th Fighter Squadron, 324th Fighter Group

Purple Heart, Air Medal with 2 Oak Leaf Clusters

Feb 15, 1920

Jul 6, 1943

Died when his P-40 crashed into the sea on its return to Tunisia from bomber escort mission to Sicily. Smith parachuted from the aircraft, but rescue operations failed to find him.

Memorialized at North Africa American Cemetery, Location: Carthage, Tunisia. He is also memorialized at Montvale Presbyterian Church Cemetery, Montvale, VA

SW
Additional Information
Missing Air Crew Report 59, P-40 A/C # 42-14241 – 1LT Smith was a P-40 pilot assigned to the 316th Fighter Squadron, 324th Fighter Group based at El Haouaria, Tunisia.  On 6 July 1943, Smith was part of a flight of P-40s returning from a bomber escort mission over Sicily.  At approximately 1100 hours, Smith reported by radio to his squadron leader, Captain Robert Dempsey, that his engine was overheating, possibly as the result of enemy anti-aircraft fire.  Dempsey suggested that Smith attempt to reach Marettimo Island, a few miles to the west of the Sicilian coast.  Smith agreed, but shortly after reported that his aircraft was on fire and that he was bailing out.  Dempsey dispatched 1LT James Fenex, Jr. and two other pilots on the mission to follow Smith and orbit his position pending the arrival of a rescue mission.    Fenex saw Smith's parachute open, saw him land in the water and successfully deploy his dinghy.   At that point, Fenex and the other pilots had to leave the area due to low fuel reserves.  Fenex reported that Smith, when last seen, was alternating bailing and paddling and was only about 1 mile from shore.  At 1920 hours, Dempsey took off again in search of Smith with Fenex and others accompanying him.  Despite a thorough search of the area, they failed to find any signs of Smith or his equipment.  It was Dempsey's opinion at the time that Smith had reached the island, which was occupied by the enemy.  Smith was never recovered.
Related Images Click to Enlarge
Extra Documents
Vignette in The Echo written by Kelly Durham – Decorated Flyer, Smith Was Lost Near Sicily