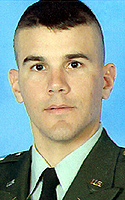 1996

History

Springfield, Virginia

Wife, Patty, had three children - 5-year-old Lauren, 2-year-old Justin, and a newborn daughter he never saw, but who he stipulated should be named Hope Riley.

Army, Captain

1st Battalion, 41st Infantry Regiment, 1st Armored Division, Fort Riley, Kansas

Bronze Star, Purple Heart

Dec 7, 2004

Killed when his unit was attacked by small-arms fire while conducting dismounted operations in Baghdad.

Arlington National Cemetery

NE
Personal Remembrances
Capt. Mark Stubenhofer made such an impression on the people around him that when he died Dec. 7, 2004, two jurisdictions separated by hundreds of miles moved to memorialize him.
In Springfield, Va., where he was raised, the U.S. post office was renamed in his honor.  That came a few weeks after Pickens County, S.C., where Stubenhofer graduated from Clemson University's ROTC program, passed a formal resolution commemorating his service.  Stubenhofer had attended Clemson on an ROTC scholarship and played second base for the school's baseball team.  On his second tour of duty in Iraq, he had already won the Bronze Star.  Acquaintances in both Virginia and South Carolina described Stubenhofer as a go-getter, a leader who turned down a desk job to be near his soldiers.  He was 30 when he died, shot as his mechanized infantry unit came under attack by insurgents in Baghdad.
Stubenhofer and his wife, Patty, had three children - 5-year-old Lauren, 2-year-old Justin, and a newborn daughter he never saw, but who he stipulated should be named Hope Riley.  "Hope, that's why I'm here.  And Riley, that's where it all began," he told his mother during what turned out to be their final phone call.
A long-time carrier for the Washington Post, Stubenhofer was well known in the Springfield area.  His funeral procession, at Arlington National Cemetery, was so long that mourners, including his family, had to wait a half hour in blustery winter winds.  "It was the whole neighborhood.  That was why it took so long," observed Robert Argenteri, a friend.
After his death, family members established a foundation, which they called Mark 's Hope, to benefit Iraqi children.  It accepts donations of school supplies, toys and cash, which are sent to his unit to be distributed in Iraq.
Source: https://www.themercury.com/news/fallenneighbors/article.aspx?articleId=b6b663ce95cd4ef1be17cc5d500a9d2f
Person Remembrances:
"Just spent the last couple of days talking about you with Frank (formerly CPT Hathaway) we miss you and want you to know we will never forget you!"  SSG Yates, Patrick of Camp Taji Iraq
"I often remember playing ball together and riding the waves down at VA Beach.  Never understood why we were teamed up until now.  Thanks for all the great times and will be looking forward to talking again.  I never had a brother but did consider you one when we were together.  Thank you my friend and RIP."  LT. William Martz of Charleston, SC
"Sir, it has been 4 years to the day, that you were taken from us.  I still miss you and think about you every day, and what an honor it was to serve under you, and what a loss it is to your family and the army that we are now without you, rest in peace sir...Straight and Stalwart."  Spc.Rodriguez B.CO 01-05 3RD PLATOON
"RIP Sir...you were an excellent leader!!  SSG Flowers" - Jeff Hoffman of Chicago, D. Co, 1/41 1989-1992 - Jeff Hoffman of Chicago, D. Co, 1/41 1989-1992
"I still think about that conversation we had about Alaska, You, SPC Ruiz and myself going to Camp Doha back in 2002.  I think about you and the other great men we lost from time to time.  I'll never forget you Sir. God Bless you and your Family"  Drill Sergeant Cabrera
"I served under this outstanding Officer, Soldier, human being in HHC CO Sir, your family is in my prayers and I know you look down from a better place."  "I had the honor to serve for CPT. Stubenhofer Durring my first tour in Iraq in 04.  He was a outstanding leader, amasing soldier, and great friend."  "STRAIGHT AND STALWART"" SGT RIVERA,OSMIN HHC 1-41 2004 /2006 of MIAMI, FLORIDA
"Mark was a dear friend, the kind that only come once in your lifetime.  His demeanor, honor, and selfless service are characteristics that are not often found in combination with one another in the degree that Mark held.  He never asked more from his Soldiers than what he was willing to give himself.  He always put his Soldiers and Family first and is greatly missed by all.  Rest in peace brother."  CPT Anthony Bohl, PA of 1-41 IN Medics
"Cpt. Stubenhofer was in my squad in Ranger School!  It must have been his 3rd or 4th time through... He never quit and was always helping keep up morale!  It was him who helped me earned my Tab!  Although I never had the oppurtunity to serve under him, I did serve beside him, and it was an honor! Rangers Lead the Way!"  SSG Reuben B. McCurdy of Dahlonega, GA
"As is now tradition on this day, I still get goosebumps reading all the stories about Capt. Stubenhofer.  There are some men that words can not describe or begin to capture their true spirit and it is so true for Capt. Stubenhofer.  I was only able to know him a short period of time and am thankful for that time. He changed myself, my husband, and after he died even my sons couldn't stop taking school supplies to school to honor him.  Anyone who had the privilege of knowing the Stubenhofer's while they were waiting for Hope's arrival know all about the reasons her name would be Hope.  Capt. Stubenhofer could not stop talking about his hopes.  How important those discussions have become to those left to still makes his hopes realities.  I know the soldiers and families of 1-41 will carry on those hopes until realized both to honor Capt. Stubenhofer and because you had no choice but to become a better person because of the time you had with him!"  Jennifer Freeman of Fort Knox, Ky USA
"CPT Stubenhoffer was a great leader and friend whom I will never forget.  Tomorrow I will surely have him and his family in my thoughts.  Thanks to his great mentorship during our years in 1-41 IN, I have been accepted to OCS to gain a commission.  Thank you sir for always being there.  I hope we are holding your high standards.  STRAIGHT & STALWART!!!!!!!!"  SSG Earley, Jason of FLW,MO
"Sir,I dont know what to say, the day I found out you were killed hit me hard, from the 3 years I worked side by side with you in the CTCP I cannot recall a negative moment working with you.  You were there for my personal troubles and mentored me to always take care of soldiers regardless of what it takes.  You did it for me and I hope I do it up to your standards now and forever.  Cannot deny the best time I can say we had was the Gauntlet when you, CPT Hathaway, SPC Carrol and myself were in our 577 pretending it to be a submarine and you were pinging for whales.  You are a great friend to all of us and you will never be forgotten.  I will never forget our adventure when your humvee almost caught fire by the starcluster as we were controlling the crowd in Al-Qasim.  Keep us safe down here for the lord will keep you safe in heaven.  Mrs Stubenhofer and family, if you ever need anything please do not hesitate to contact me.  God Bless you all and thank you for giving me the honor to serve with CPT "Stuby" Stubenhofer." SGT Yates, Patrick
"We did all we could, and then some... But the Lord had his own mission for you.  Keep an eye out for us from up above.  You will always remain in our hearts."  SGT Browne, 1-41 Medics. of Ft. Riley, KS
"Patty, I didnt know Mark.  I went to Arlington Cemetery on Memorial Day 2007 and saw you and the kids.  I walked up and shook your hand.  You were very gracious and let me take your family's picture.  The pictures came back today in the mail.  What a wonderful picture.  Justin is smiling proudly.  I am glad to email it to you.  I am an Army veteran, having did my tour in Germany and Iraq/Kuwait during Desert Storm."  Chris von Stein of Germantown, MD
"Although gone you will never be forgotten.  You were the finest Commanders I ever had the chance to work for.  No other Officer has ever cared so much for his soldiers.  May God bless your family, and know they are in our hearts and prayers.  Your legacy will live forever." Spc Adrian Whitaker of Ft. RIley
"Its been 2 years sir,we still love and miss you and will never forget you.  Strike first  Go Clemson!!!!" spc rod of wichita ks
"Patty, I am so sad to hear that this happened to you.  A good friend of ours, stationed in San Antonio with us, told us that his friend, Mark, from Clemson Army ROTC was killed in Iraq and had a wife Patty and 3 children.  I though,t "I had a good friend Patty at Clemson my freshman year, I hope it is not her, but when we typed in your husbands name this morning on google, I saw your picture. I am so sad for you."  I am so sorry I got too busy at school and didn't stay close to you.  I wish I could have been there for you in Christmas of 2004.  We also have 3 kids. I got out of the Air Force, but John is still in.  We are in Texas now.  Last week we were in VA (my family lives there) for a conference John had to go to.  I have friends who have gone through what you are going through and it breaks my heart.  I hope you remember me and know that I have been thinking of you all day.  I wish we had kept in touch, we have a lot in common.  Are you in VA now? Please write!  Love, Britta" Britta Ryan Choberka of San Antonio, TX
"Mark was my roommate at Clemson for my first two years.  I was blessed to get to know him and his wonderful family during that time.  Thank you Mark, for all of the great memories and most of all for being a friend."  RS of Boston, MA
"SIR YOU WILL NEVER BE FORGOTTEN. THANK YOU FOR EVERYTHING YOU DID FOR US.  HHC MISSES YOU, 1-41 MISSES YOU.  YOU AND YOUR FAMILY ARE ALWAYS IN MY PRAYERS. "STRAIGHT AND STALWART SIR""  SGT. FRANCIS of FORT RILEY, KANSAS
"3rd platoon, all present sir, thanks for your dedicaton and commitment to us the men of b.co, we miss you everyday sir, rest well, we will never forget you" spc.rod b.co 1/41
"Mark, I feel I have been blessed to know you and work with you.  The dedication you had to the Army rubbed off on those you worked with.  I will miss our working days at Riley, my condolesences to your family and hope that knowing you were a great officer helps."  Cathy of Atlanta, GA USA
"Mark had one of the most positive attitudes of any officer I have served with.  I am sad to hear he has passed, and offer my condolences to his family."  Stephen Schnell of Stuttgart, Germany
"I remember meeting Mark while we were both students at Clemson University.  He started dating my friend Patty.  Upon meeting Mark, one immediately realized he had "it."  "It" being the realization that he could see the big picture of the world and he wanted to leave it a better place than he came into it.  He was a great patriot willing to put country above self.
"Mark will always be remembered for his willingness to sacrifice for others in joining the Army and volunteering to go to Iraq - twice - and for the sacrifice he gave for those who will never know him.  Our community remembers for them because we knew Mark, our favorite son."  Steve Gillingham of Springfield,
"I served under this outstanding Officer, Soldier, human being in B Co's first deployment to Iraq.  Sir, your family is in my prayers and I know you look down from a better place."  Drill Sergeant(SSG) Nathan Q. Rempel of Fort Knox, KY
"Words can not express the gratitude we owe to you Mark.  Please know that the Clemson family has you in its thoughts and prayers."  JT of Rutherford, NJ
"I had the honor to serve for CPT.  Stubenhofer During our first tour in Iraq in 03.  He was a outstanding leader, amasing soldier, and great friend."  Ken Davis of Phoenix, AZ
Additional Information
SPRINGFIELD, Va. AP — An Army officer killed in Iraq was known for his attention to detail, his devotion to his children and his commitment to his country, his mother said Saturday.  "His life was his family, his children," Sallie Stubenhofer said of her son, Capt. Mark N. Stubenhofer.  "Everything he did when not being a soldier was being with his children and his wife."
Stubenhofer, 30, was commander of Headquarters and Headquarters Company, 1st Battalion, 41st Infantry, 3rd Brigade, 1st Armored Division, based at Fort Riley, Kan.  The native of Springfield was killed Tuesday by small-arms fire during a patrol in Baghdad, the Army said.  It was his second tour of duty in Iraq.  He returned to the country over the summer after spending six months there in 2003.
Stubenhofer graduated from West Springfield High School in 1992.  After graduating from Clemson University with a history degree in 1996, he went straight into the Army.  He was first stationed in Alaska and had been at Fort Riley since 2001.  His mother, a part-time tutor in Fairfax County, said her son had received a Bronze Star for helping liberate five cities in Iraq.
Stubenhofer enjoyed country music and "he liked to talk," his mother said.  "Mark was a born debater, and he could outsmart you.  You could never win.  It was always a family joke."  He could also challenge high-ranking officers.  Sallie Stubenhofer said one of her son's superiors told her a story about a lengthy meeting that was being wrapped up.  After he asked for final questions, Stubenhofer looked up and pointed to one overlooked detail.  Her son, he told her, was always right.  "He said it drove him nuts," she said.  "I said, 'Tell me about it.  I raised him."'
Stubenhofer is survived by his wife, Patty, and three young children, including a baby girl born July 28.  "He never saw her," Sallie Stubenhofer said.  "He actually managed to call from Iraq and get on the phone in the delivery room.  We have a picture of Patty holding the phone to the baby's ear.  He got there the best way he could."
Stubenhofer will be buried at Arlington National Cemetery.
Source: https://www.mco.com/valor/548943.html
Related Images Click to Enlarge