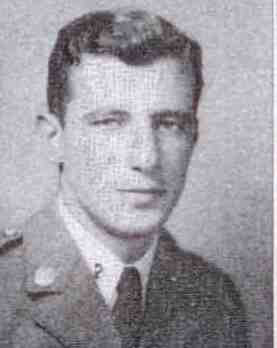 1944

Agricultural Engineering

First Sgt, Company B2; First Sergeants Club; A.S.A.E.

Summerville, SC

Army, Second Lieutenant

262nd Infantry Regiment, 66th Infantry Division

Silver Star, Purple Heart

Mar 29, 1924

Apr 19, 1945

Killed in Action in Brittany, France

Boone Hill United Methodist Church Cemetery

SE
Additional Information
Attached to the 12th Army Group and designated the 12th Army Group Coastal Sector, with operational control of all French forces in the area, the 66th relieved the 94th Division in the Brittany-Loire area, 29 December 1944.  Its mission of containing the enemy in the St. Nazaire and Lorient pockets was carried out by daily reconnaissance patrols, limited objective attacks, and the maintenance of harassing and interdictory fires on enemy installations.  A heavy German attack near La Croix was repulsed, 16 April 1945, and several strongly emplaced enemy positions were taken, 19-29 April 1945.  Enemy troops in the Lorient and St. Nazaire pockets surrendered to the Division upon the end of hostilities in Europe, 8 May 1945.  The 66th moved to Germany on occupation duty, in the Koblenz subarea, 20 May 1945, and left for Marseille, 26 May 1945.  It sailed for home 27 October, 1945.
Extract: https://www.lonesentry.com/usdivisions/history/infantry/division/66th_infantry_division.html
Related Images Click to Enlarge
Extra Documents
Combat in the Rear – Vignette written by Kelly Durham for The Echo