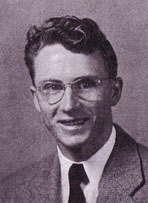 1949

Arts and Science

Cadet Sergeant, Staff Sergeant, Second Lieutenant; Distinguished Military Student; BSU; Best Drilled Squad, Track Team

Jonesville, South Carolina

Wife: Mildred Flemming Danner 

Army, First Lieutenant

70 Tank Battalion, 1st Cavalry Division

Silver Star, Purple Heart, Korean Service Medal, United Nations Service Medal, National Defense Service Medal, Korean Presidential Unit Citation, Republic of Korea War Service Medal.

Sep 15, 1928

Apr 1, 1951

Killed in Action from ground fire while directing artillery fire from an L-14 spotter plane.

Gilead Baptist Church Cemetery, Jonesville, SC

SW
Personal Remembrances
Thank you very much for the information that you sent of the Scroll Of Honor for my brother LT. O.F. Danner.  We have very little information about his activities and service in Korea.  However, we know that he was serving in the school's troops of the 1st Calvary at Fort Knox in the early summer of 1950.  He and his unit was shipped from Fort Knox to Japan where they disembarked and landed at Busan, South Korea.  Upon establishment in Busan his unit of tanks was ordered to lead break through from Busan to Seoul.  He continued to lead his tanks through the push to the Chinese border, and was successful in returning his units back to Seoul.  Then having served 9 months in combat as a Commander of a platoon of tanks, he was assigned as a airborne spotter for directing artillery fire against ground based Korean units.  He flew in the Army's L-14.  He was killed by ground fire from his position in the L-14, which returned to base.
-B.C. Danner, brother of LT Oscar Danner
Additional Information
Citation –  AWARD OF THE SILVER STAR —
By direction of the President, under the provisions of the act of Congress approved 9 July 1918 (WD Bul 43, 1918), and pursuant to authority contained in AR 600-45, the Silver Star for gallantry in action is awarded the following named officers and enlisted men:
First Lieutenant OSCAR F DANNER 060905, Armor, United States Army, Company C, 70th Tank Battalion (Heavy), attached 1st Cavalry Division, for gallantry in action gagainst the enemy on 22 September 1950 near Katong-ni, Korea.  Lieutentant Danner's platoon was the leading armored element of a Task Force Lynch.  Their mission was to seize and secure a river crossing in the vicinity of Naktong-ni.  Lieutenant Danner, in the lead tank, observed a column of enemy soldiers marching along the road in the same direction of the task force.  Realizing that surprise would be a decided advantage, he instructed his platoon to hold their fire until further orders.  Fearlessly leading his tanks within very close range of the enemy, he then ordered his platoon to open fire.  With complete disregard of his own safety, he moved his tank forward, through the panic stricken enemy, and fired his first round into an enemy ammunition truck, causing it to explode.   He completely exposed himself in order to give accurate fire directions to his platoon, causing 500 enemy casualties.  During the bitter conflict with the enemy infantry, it became apparent that his tank was in danger of catching fire from the burning and exploding ammunition truck.  With great risk of his own life, Lieutenant Danner voluntarily dismounted from his tank and, while under direct fire of the enemy and withstanding the blistering heat from the burning truck, directed his vehicle to a safer position.  By his calm, forceful leadership and undying devotion to duty, his platoon captured and destroyed much enemy equipment.  Lieutenant Danner's gallant actions reflect great credit on himself and the military service.  Entered federal service from South Carolina.
Related Images Click to Enlarge
Extra Documents
The Rest of the Story – Vignette in The Echo written by Kelly Durham