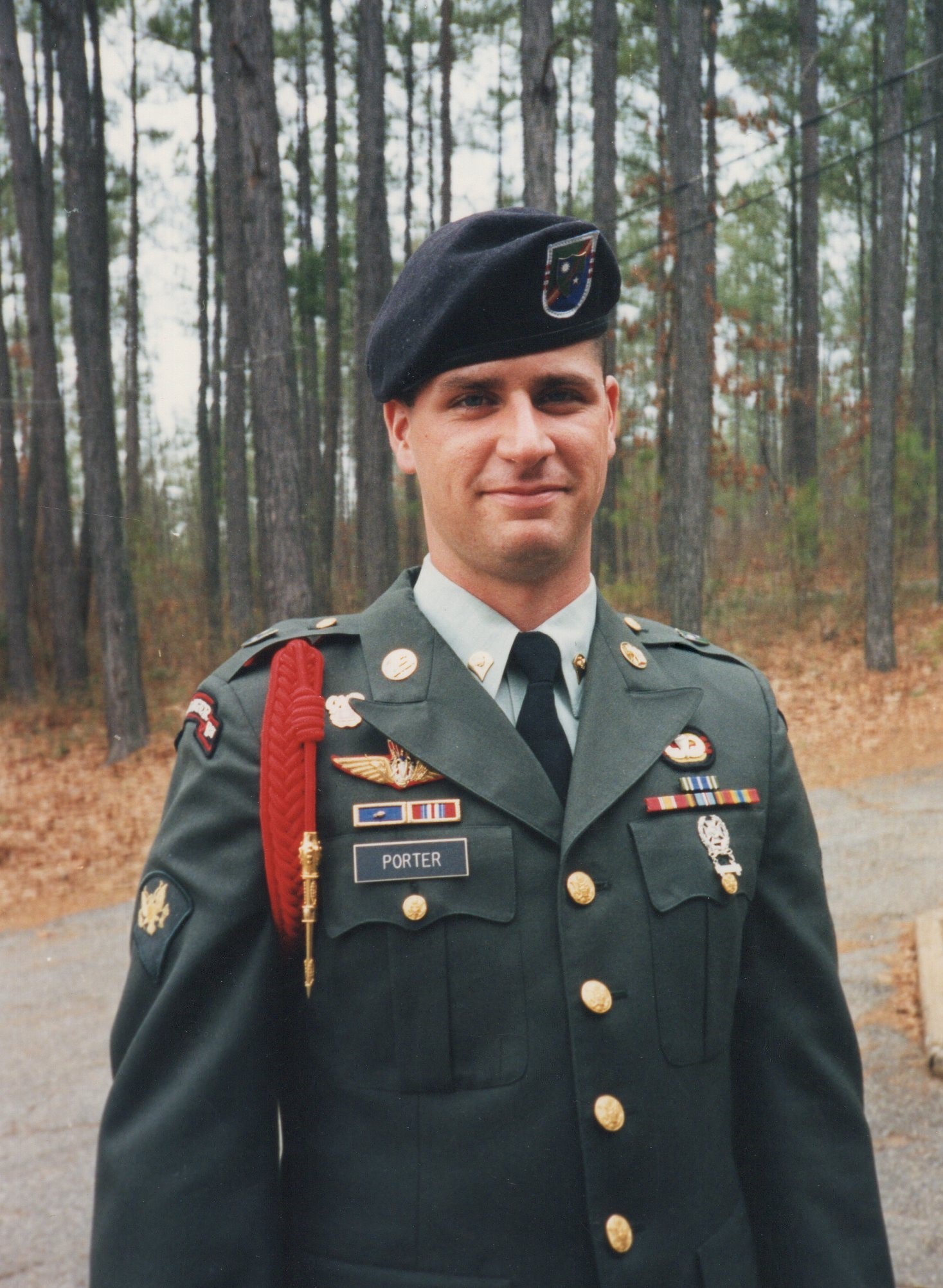 2000

Horticulture

Pickens, SC

Wife - Tiffany Chastain Porter; Sons - Elijah Thomas Porter and John Grayson Porter

Army, SPC

3rd Battalion of the 75th Ranger Regiment

Joint Service Commendation Medal, Army Commendation Medal with Oak Leaf Cluster, Army Achievement Medal with 2 Oak Leaf Clusters, Army Good Conduct Medal, National Defense Service Medal, Armed Forces Expeditionary Medal, United Nations Medal, Expert Marksmanship Qualification Badge w/Rifle Bar, Parachutist Badge, British Army Parachutist Wings, Royal Thai Army Airborne Wings, United Nations Operations in Somalia Medal, Joint Meritorious Unit Award and Army Valorous Unit Award

Mar 4, 1973

Apr 21, 2020

Metastatic esophageal adenocarcinoma to bone and pleura, subsequent to exposure to carcinogens and microorganisms contracted in combat area.

Cremated - Memorial marker in Dolly Cooper Veterans Cemetery, Anderson, SC
Personal Remembrances
"Philip was a great person and friend.  I served with him in the 3rd Ranger Battalion during our time in the Army.  His strength and resolve were an inspiration to many and guided us through some tough times.  I will dearly miss my Ranger Buddy. RLTW"
- Chip Harrison, Served In the Military Together, Wetumpka, AL May 29, 2020
"Rest In Peace Ranger buddy.  You were a great roommate and a wonderful person.  You helped make me feel welcome and provided me with a safe and peaceful place to live.  I will miss knowing that you are out there. My condolences to your family."
– Chad Bearden, Served in the Military together, Poulsbo, WA, May 12, 2020
"The highest honor and the greatest thing I've ever done in my life was to fly Rangers into combat and then bring them back.  Sleep well Ranger, you're home with the Lord now."    Gerry Izzo, Blackhawk Helicopter Pilot, Gothic Serpent.
– Gerry Izzo, Served in the Military together, Crittenden, KY, May 12, 2020
"Philip was always so strong, robust, and active.  What an addition he was to the Clemson University Department of Horticulture, the South Carolina Botanical Garden, and the surrounding community. It's rare to find people who engage their minds, hearts, and hands in equal measure, but Philip had that ability.  He was always kind, caring, well mannered, and supportive of his colleagues.  We will miss him and thank him for the legacy he leaves behind through his family, friends, colleagues, and through all of the magnificent trees he planted and/or cared for during his lifetime. -----Mary Taylor Haque, Clemson University Professor."     "The true meaning of life is to plant trees, under whose shade you do not expect to sit." Nelson Henderson"
– Mary Taylor Haque, Friend, Clemson, SC, May 04, 2020
"His passing breaks my heart for Tiffany Chastain Porter, Eli and Gray who lost a great husband and father and for myself who lost a great friend.  Philip and I spent hundreds of hours together at Clemson and after graduation. We even got close enough to get on each other's nerves and argue over pointless things.  Through all of that I learned that Philip was an honest, loyal friend; the kind of guy who would throw himself on a hand grenade to save you.  He was brave, a true gentleman, and patriot.  He applied himself to and studied everything he took an interest in and worked hard.  Doing tree jobs with him was more fun than work.  Everyone reading this will know what I mean when I say that his very unique voice and speech patterns, interjected with an equally unique laugh, will forever be etched in my brain.  The world lost one of the good guys - in fact, one of the best of the good guys with his passing."
– Karl Pokorny, Friend, Pendleton, SC, Apr 23, 2020
Additional Information
Philip Porter, born in Easley, SC, enlisted in the Army on 8 August 1991.  After basic training, he attended Single Channel Radio Operator School, Basic Airborne School, and the Ranger Indoctrination Program.  He was eventually assigned to Bravo Company, 3rd Battalion of the 75th Ranger Regiment as a radio operator.  Specialist Porter served with Task Force Ranger in Somalia in 1993 and participated in the Battle of Mogadishu.  He was awarded the Joint Service Commendation Medal for his actions in this battle as he helped his element fight through two ambushes and a roadblock.  He also, while under enemy fire, helped transfer casualties out of danger.  In addition, Bravo Company was awarded the Joint Meritorious Unit Award and the Army Valorous Unit Award for their actions on 3 & 4 October 1993.
Specialist Porter acquired a bacterial infection while serving in Somalia, which was judged to be related to the poor sanitary conditions prevalent in that country.  Porter was honorably discharged from the Army on 10 June 1995.  He enrolled at Clemson University in 1997 and graduated in 2000 with a degree in Horticulture and Urban Forestry.  While attending Clemson, Porter worked under a grant to facilitate restoration of the Schoenike Arboretum at the SC Botanical Garden.  He later served as Arboretum Manager. The bacteria acquired during his service in Somalia eventually led to cancer.  Porter died of esophageal cancer on 21 April 2020.  The illness that led to his death was determined by the Veterans Administration to be service related.
Related Images Click to Enlarge
Extra Documents
A Special Veterans Day – Vignette Written by Kelly Durham for The Echo