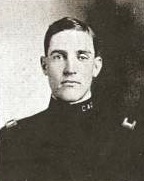 1915

Agronomy

Vice President Clemson Agricultural Society; Editor Clemson Agricultural Journal; Calhoun Literary Society; President County Club; Head Waiter, Club Football 2, 3

Union, South Carolina

Married to Harriett Frazier, a 1917 graduate of Winthrop College

Army, First Lieutenant

56th Infantry

"Certificate of Heroism and Diploma from French Government" Citation Signed by General Pershing

Apr 19, 1890

Nov 10, 1918

DOW - He took part in engagements in Preny Ridge and Metz. Shot down by machine gun fire while leading his men in action at Metz. Died of wounds, Lorraine France

St. Mihiel American Cemetery, Thiaucourt, France

NE
Personal Remembrances
"He was ever willing, true, brave, and courageous, and had won for himself the admiration and esteem of everyone in the regiment. He fell from enemy fire while in the act of leading his men forward in action."—Major P.B. Parker on Johnson's death
Additional Information
IN CAUSE OF LIBERTY
Gallant Officer Killed in Foreign Land
Mrs R H Johnson of Mt Tabor has recently received a letter from Maj P B Parker of the Fifty-sixth Infantry in France, telling her the details of her husband's death, which occurred on November 10.  Lieutenant Johnson was killed in the thick of the battle.  Following is the letter:
"It is with the deepest sorrow and regret that I write you this little word of the most sincere sympathy from myself and on behalf of the brother officers of the battalion in which your beloved husband so gallantly served and died for the noble cause.

"I spoke to your husband as he was being carried to the rear stretcher, wounded from the field of battle, and was only some hours later that I learned from the surgeon that he had died at 2 pm November 10.

"He was ever willing, true, brave and courageous and had won for himself the admiration and esteem of every one in the regiment.  He fell from enemy fire while in the act of leading his men forward in action.

"We wish to extend and join with you in sympathy for the loss of one who was dear to us all."
————–
Lieutenant Johnson was graduated at Clemson College with the class of 1915.  He received his commission at the second training camp at Oglethorpe, and has been in France since August.  He was married to Miss Harriett Frazier, a member of the 1917 class of Winthrop, on December 11, 1917.  He has two brothers in service, Lieut William D Johnson at Camp Jackson, and Mason Thorne Johnson of the United States Navy.
Mr and Mrs W C Johnson of Mt Tabor, their parents, and the wife, are blessed with a name and memory that will be cherished and held most deat, not only by them, but by all who came in close contact with the life of Richard Hughes Johnson, who gave voluntarily his all for the cause.
Excerpt from his profile on Findagrave.com
—————-
Mr. Johnson was a 1915 graduate of Clemson Agricultural College, now Clemson University in Clemson, South Carolina.  He taught school in his home community in Union County for two years before volunteering for military service.  He was my grandmother's first grade teacher in 1916-17.  He was so well loved that when news reached his home community the populace decided to erect and build a new schoolhouse in his memory.  It was the Hughes Johnson School, and it operated for over 30 years.
Posted by Fredrick Tucker on Findagrave.com
Related Images Click to Enlarge
Extra Documents
One Day Short – Vignette in The Echo written by Kelly Durham