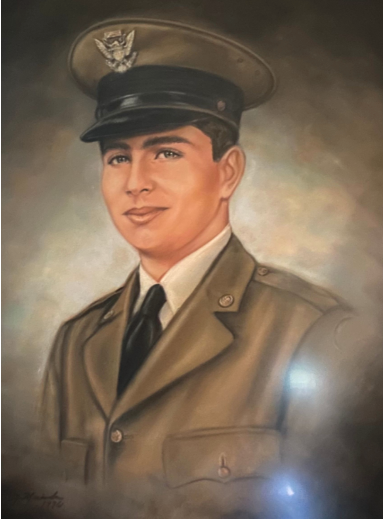 1945

General Sciences

Tiger Cubs, '42; D Company, 42

Columbia, South Carolina

Wife - Mary Eileen Plowden

Army, Staff Sergeant

289th Infantry Regiment, 75th Infantry

Purple Heart, Bronze Star Medal, Infantryman Badge, Good Conduct Medal, American Campaign Medal, European-African-Middle Eastern Campaign Medal with two bronze service stars and WWII Victory Medal

Jul 18, 1923

Jan 19, 1945

Killed in Action in Belgium during the Battle of the Bulge.

Elmwood Memorial Gardens, Columbia, SC

SE
Personal Remembrances
The following announcement was published in The State, Saturday, May 14, 1949, Columbia, SC, Page: 3
The body of S-Sgt. Robert Cone Elliott, son of the late David O. and Mrs. Nora Stevens Elliott, will arrive in Columbia today and will be taken to the Dunbar Funeral home.
Sergeant Elliott was killed in Belgium, January 15, 1945. Sergeant Elliott was born in Columbia in 1923 and was graduated from Dreher high school and later attended Clemson college. He was a member of the First Baptist church and was in the grocery business before going into service. He was inducted into the army at Fort Jackson in March, 1943 and received training at Fort Leonard Wood, Mo. and at Camp Breckenridge, Ky. He went overseas in October, 1944 and served with Co. A. 289th Infantry, 75th division in England, France and Belgium.
Funeral services will be held at 3 o'clock Sunday afternoon from the Dunbar Funeral home, conducted by the Rev. Eugene L. Nixon, who was the former chaplain of the 75th division and is now rector of the Episcopal Church of the Good Shepard. Burial will be in Elmwood cemetery.
Sergeant Elliott is survived by his mother, Mrs. D. S. Elliott; two sisters, Miss Dot Elliott and Daisy I Elliott Fischborn; four brothers, David Onslow Elliott, Thomas Edward Elliott, Jack R. Elliott, and Ronald J. Elliott. He was married to the former Ileen Plowden, now Mrs. Edgar Waters.
Pallbearers will be Thomas Murtishaw, Van Richardson, Jr., Oliver Willis, Harless McSwain, Max Hicks, Pope Truesdale, Ray Jackson and Fred Ramage.
Additional Information
"Staged with his regiment at Camp Shanks at Orangeburg, New Jersey on October 17, 1944.  Sailed from the New York Port of Embarkation on October 22nd and arrived in England on November 3, 1944.  Served in the European-African-Middle Eastern Theater as a Staff Sergeant with the 289th Infantry Regiment, 75th Infantry Division.  Participated in the Rhineland and Ardennes-Alsace (Battle of the Bulge) campaigns.  Landed in France on December 13, 1944.  The German Ardennes counteroffensive of December 16, 1944 caused his unit to be rushed to the front where it entered defensive positions along the Ourthe River on December 23, 1944.  Took part in heavy combat around Sadzot, Belgium and moved to the Aisne River at Grandmenil, Belgium on January 5, 1945.  Attacked across the Salm River on January 15th and was killed in action in Belgium on January 19, 1945 during the Battle of the Bulge.  Awarded the Combat Infantryman Badge, Bronze Star Medal, Purple Heart, Good Conduct Medal, American Campaign Medal, European-African-Middle Eastern Campaign Medal with two bronze service stars and WWII Victory Medal."
Extract from the WWII Memorial website.
Related Images Click to Enlarge
Extra Documents
Christmas in Combat – Vignette written by Kelly Durham for The Echo