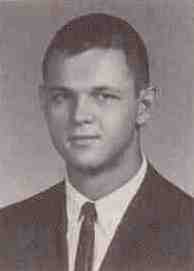 1964

Forestry

DMS 4; Sears and Roebuck Scholarship 1; Forestry Club 2, 3, 4; Scabbard and Blade 4; Alpha Zeta 4; Hall President 3; Wesley Foundation 1; Tiger 1; Pershing Rifles 2; Fourth Regimental Headquarters 3, 4; Counter-guerilla Unit 3; Rifle Team 1, 2, 3

Charleston, SC

Patricia and daughter: Elizabeth

Army, Captain

A Company, 2nd Battalion (Mechanized), 2nd Infantry, 1st Infantry Division, US Army Vietnam

Soldiers Medal, Bronze Star Medal with Valor Device and two Oak Leaf Clusters, Air Medal, Purple Heart with Oak Leaf Cluster, Army Commendation Medal with Oak Leaf Cluster, National Defense Service Medal, Vietnam Service Medal, Republic of Vietnam Gallantry Cross Unit Citation with Palm, Republic of Vietnam Campaign Medal, Combat Infantry Badge, Parachutist Badge, Expert Sharpshooter Badge with Automatic Rifle Bar, Ranger Tab

Oct 9, 1942

Mar 15, 1970

Killed in Action/Died from Injury. In the afternoon of March 13, 1970, the men of Captain Walden's company were unloading an armored personnel carrier in preparation for a night defensive operation when a fire started in a stockpile of ammunition. Captain Walden cleared the area and immediately began trying to extinguish the blaze with the help of another comrade. A burning fragmentation grenade exploded nearby, mortally wounding Captain Walden. He was immediately evacuated to the 24th Evacuation Hospital in Long Binh, Republic of Vietnam; then later to the 3rd Field Hospital in Saigon where he succumbed to his wounds on March 15.

Captain Walden's body was recovered and buried in Riverview Memorial Park in Charleston, SC.

SE
Personal Remembrances
"Robert was my oldest son.  I think that statement says much about how I felt about him although I did feel the same way about my younger children.  He was dependable.  He grew up in the hippy era but he was not a hippy.  He tended to go the other way from the way of the crowd.  He did well in school but liked the outdoors, leading him to attend Clemson because of their forestry program.  He was a member of the ROTC and the Pershing Rifles.  In fact, he was head of the PRs his last semester.  He liked the ROTC and decided to join the regular army instead of serving only what was required of him.  He became a Captain soon and missed a promotion to Major by a few days.  He was stationed in Germany and could have stayed there but thought he should go to Vietnam and volunteered to go.  Robert was not a 'spit and polish' officer but instead was more concerned about caring for the soldiers under his command.  On the day he was supposed to transfer to a support role off the front lines, he died as the result of an injury caused by a fire and explosion in their encampment.  I still miss him."
His mother,
Marion Walden
March 12, 2010
"Robert was an exceptional man.  He was a committed Army Captain who gave his best and last for the men in his command.  His heroic actions were only to be expected of a man who had, for all of his life, been a steadfast son of a close-knit Christian family, a selfless and devoted husband and father, and an unfailing officer in the service of his country.  His honesty and strength of character were obvious, not only to all who knew him well, but even to those who knew him only in passing.  I am supremely grateful and was blessed to have shared a few, short years of his life.  His daughter Elizabeth, who was the light of his life, carries on his light now for all the years to come."
Patricia Walden Prioleau
Mount Pleasant, SC
April 18, 2010
"While I don't have any true 'remembrances' to share, I want to provide a bit of an epilogue to the story for those who knew my father, Robert Walden. My mother and I have lived in Mount Pleasant, South Carolina since soon after Daddy's death. After several years of raising me by herself, Mom remarried. I was blessed to grow up with a wonderful stepfather and two younger siblings; we were and are a seamless blended family. Today, Mom and Dad live only a few blocks away from where my husband and I are raising our two boys.
I am so grateful to have this opportunity to learn a bit more about my father (and especially for my children to get to know their grandfather). I was a baby when he died, and have always felt a need and desire to know more about him. These memories from friends who knew him have added a wonderful new dimension to the man I've come to know through family stories. Thank you so much for taking the time to gather this information and share these remembrances with me, and my family!"
Elizabeth Boyles
Mt. Pleasant, SC
January 30, 2010
"I didn't know Robert very well. As I recall, it was always "Robert", not ever "Bob" (but sometimes "Geechee"), but we did march in the Pershing Rifles drill team together in 1961-62, and being a PR back then was a pretty much a full time job. We practiced at least an hour a day Mon.-Thurs. from September 'thru May and went on a number of PR trips together: several SC Christmas parades; an overnight trip to Coker College dance; the Carolina-Clemson football game; a trip to the Mardi Gras; and a trip to the national drill team championships in Washington, DC (and to March in the National Cherry Blossom Parade). As a group we spent a lot of time together.
My most lasting memory of Robert came the next year, our junior year. At a spring drill in the spring of 1963, the Army ROTC had a "competition" to select the "best drilled cadet," who would receive the R. W. Simpson Medal. Robert was the runner-up in the contest, which I remember very well because I won. The competition was open to all cadets and, as I recall, was mostly in the manual-of-arms rather than marching. The competition went through a number of rounds of small groups (5-6 cadets each) with the "winner" moving on and the others being out. Robert and I were the last two standing, and I think there wasn't much difference in our performances. I had the rank of Cadet Sergeant-Major that year and Robert had some lower cadet rank. I've always wondered if that colored the judges' decision, as I knew Robert was every bit as good as I was in the drill maneuvers and he could have won just as easily as I did.
I lost track of Robert after graduation and was very saddened when I learned of his death in Viet Nam. I've sometimes thought about looking up Robert's family (I understand he had a daughter) and passing that medal along to them. I've had it almost 50 years, and now I think it's Robert's turn to have it.
I'm attaching a picture I have of the PR's that year. It was taken on our trip to Washington. I think one interesting thing about that picture is seeing 32 college sophomores touring Washington, all wearing coats and ties. Robert is standing in the second row, third from the left, in the gold vest."
Preston Earle '64
Greensboro, NC
January 12, 2010
"Bob was my CO and friend in an unfriendly environment. Of the three CO's that I served under, Bob's memory will always occupy a place in my heart.  He was one of the best and placed his men's safety above all. He was a good officer and a great person who was doing his duty to the best of his ability.
I was with Bob Walden just prior to his death. After I returned to the states I talked with Pat and tried to explain the circumstances surrounding Bob's death and how much it affected me. I have never been sure if our conversation helped or hurt Pat, but it was something I needed to do because of our friendship.
Bob's death was an unfortunate accident that occurred because of a little carelessness and unfortunate timing. Our unit was part of the Big Red One and we were in the process of being pulled back to the Division HQ for reassignment back to the States. This was part of President Nixon's decision to scale down the US involvement in South Viet Nam. Our unit was a track company and was still out in front of the division but in the process of posting for possible action. As we settled in for the evening we were still in our "wagon wheel" formation with the platoon tracks on the outer ring and the command track in the center. That night we were to inventory our ordnance for disposal.
Bob and I were sitting in the command track talking when the call came that, while cleaning out some of the ammunition, one man carrying a box of trip flares had stumbled and a flare had ignited as it bounced out of the track into a stack of armaments. Bob immediately left our track to supervise the situation. I know that he ordered the track to be positioned to block the potential explosion. I did not go with him as I had just removed my boots and had to put them back on. About that time word came over the radio that "six" was down. I relayed the information to battalion HQ and called in a medivac.
As I understood it, Bob was standing next to the platoon track when a fragment grenade exploded. I know he was medivac'd out that night and went into surgery that same night. When we finally got to stand down position the next day, the platoon leaders and I got the XO's jeep and went to the hospital only to find that Bob had passed away.
I can assure you that Bob was respected by both the men and officers in the company. I was the Forward Observer and Bob was my second Commanding Officer while I was in Viet Nam. He set a high standard for that position.  I valued both his leadership and his friendship. I had actually turned down a rotation out of the field to stay with the unit because of my working relationship with Bob. I trusted him with my life and the lives of the men in our unit. Soon after Bob's death the unit was shipped out in different directions. I went to the First Cavalry Division and ended up as an XO. In that time I lost men and was injured myself, but nothing affected me as much as Bob's death. His was a life that was cut all too short. I know that he is missed by both his wife and daughter. But know that he left his mark on all of us.
Bob's death is still painful for me to remember. I am pleased to know that Clemson University is constructing this memorial and that Bob will be an honored alumnus. I hope that Pat and their daughter are well. Please let them know they are still in my heart and my prayers."
Dave Lewis
Missouri '68
Visalia, CA
January 14, 2010
The following tributes were copied with the approval and provided courtesy of the Vietnam Veterans Memorial Wall Page, www.thewall-usa.com
"CAPT Robert Walden was my first commanding officer in Vietnam, and his leadership helped this green 2LT get along, and do a reasonably good job.  He was a fine officer, and a finer man, and he was taken far too soon. I pray that his family, though I never knew them, understand how much he was respected. He cared about his men, and demanded that we, as leaders do so as well. What better teaching can one receive? Thanks, CPT, for all you did for those of us under your command. You Led well, and taught much. Rest in Peace."
Philip Topps
Highland Lakes, NJ
July 29, 2002
Additional Information
Citation to accompany the Soldier's Medal awarded posthumously to Captain Robert D. Walden, Company A, 2nd Battalion (Mechanized), 2nd Infantry, 1st Infantry Division, by direction of the President, under provisions of the Act of Congress, approved 2 July 1926, for heroism not involving actual conflict with an armed enemy in the Republic of Vietnam:  On 13 March 1970, Captain Walden was serving as the company commander of his unit at a rest-over-night position.  As some fellow soldiers attempted to unload equipment and munitions from a nearby vehicle, a trip flare was ignited within a box of ammunition.  With complete disregard for his personal safety, Captain Walden rushed to the scene and immediately cleared the area.  Continuing to ignore the possible danger, Captain Walden assisted another comrade in extinguishing the blaze.  Suddenly the munitions exploded mortally wounding Captain Walden.  His courageous initiative and exemplary professionalism distinguished Captain Walden as a soldier of the highest caliber.  Captain Walden's heroic actions are in keeping with the highest traditions of the military service and reflect great credit upon himself, the 1st infantry Division, and the United States Army.
Citation to accompany the Bronze Star Medal with Valor Device awarded to Captain Robert D. Walden, Company D, 1st Battalion, 16th Infantry, 1st Infantry division, by direction of the President, under provisions of Executive Order 11046, 24 August 1962, for heroism not involving participation in aerial flight, in connection with military operations .against a hostile force in the Republic of Vietnam:  On 12 March 1968, Captain Walden was serving as commander of his company during a mission to secure Highway 13 and prevent enemy movement across and along it.  He led a ready reaction force to the embattled area in which a patrol was engaged in fighting a Viet Cong force of unknown size.  Captain Walden directed the relief force of two tanks and an armored personnel carrier into position near the hard pressed patrol and then led a sweep of the area which routed the enemy.  His swift action brought vital ammunition supplies to the friendly force, resulted in the capture of valuable intelligence material from a dead enemy soldier, and prevented the Viet Cong from mining the road.  The courage and dynamic leadership of Captain Walden significantly contributed toward the successful outcome of the mission.  Captain Walden's outstanding display of aggressiveness, devotion to duty, and personal bravery is in keeping with the finest traditions of the military service and reflects great credit upon himself, the 1st Infantry division, and the United States Army.
Citation, by direction of the President, the Air Medal is presented to Captain Robert D. Walden, Headquarters and Headquarters Company, 3rd Brigade, 1st Infantry Division, for distinguishing himself in sustained aerial flight in support of combat ground forces of the Republic of Vietnam during the period 5 September 1967 to 28 January 1968.  During this time he actively participated in more than twenty-five aerial missions over hostile territory in support of counterinsurgency operations.  During all of these missions he displayed the highest order of air discipline and acted in accordance with the best traditions of the service.  By his determination to accomplish his mission in spite of the hazards inherent in repeated aerial flights over hostile territory and by his outstanding degree of professionalism and devotion to duty, he has brought credit upon himself, his organization, and the military service.
Captain Walden's name is listed on the Vietnam Veterans Memorial Wall on Panel 12W, Line 001.  Robert Walden's name is also listed on the Vietnam War Memorial at Patriot's Point in Charleston, SC which was erected in memorium to the patriots from the First Congressional District of South Carolina who valiantly gave their lives on the battlefields of Vietnam.
Captain Walden was a six-year veteran of the US Army, having entered active duty at Fort Jackson, SC on 3 June 1964 shortly after his graduation and receipt of a regular Army commission from Clemson University on 30 May 1964.  After attending Field Artillery Officer Basic Training, Airborne Training, and Ranger Training, he was assigned in May1965 as Assistant Executive Officer to Battery A, then to Battery B, 2nd Howitzer Battalion, 18th Artillery in Germany.  Captain Walden was transferred to the 708th Maintenance Battalion, 8th Infantry Division, Germany, in June 1966 as the Ordnance Maintenance Officer.  He remained in Europe until July 1967 when he returned to the US for training in preparation for his first assignment to Vietnam.  He reported to the 3rd Brigade, 1st Infantry Division in Vietnam at the end of August 1967. In February 1968, Captain Walden was appointed Commander of Company D, 1st Battalion, 16th Infantry, 1st Infantry Division.  He was wounded in action in March 1968 and evacuated to the United States where he spent the next four months in the US Army Hospital at Fort Benning, GA.  Upon return to duty status in August 1968, Captain Walden was assigned as the G-3, Training Officer, 20th Company, 2nd Student Battalion, Fort Benning.  He reported for his second tour of duty in Vietnam in November 1969 and was assigned duty as Commander, Company A, 2nd Battalion (Mechanized), 2nd Infantry, 1st Infantry Division.  He remained in that position until his death on 15 March 1970.
Related Images Click to Enlarge