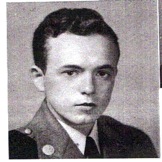 1943

Civil Engineering

Honors 3; American Society of Civil Engineers, Kamp Klark Klan. - Attended North Georgia College 1939-1940.

Atlanta, GA

Army, Air Force, 2nd Lieutenant

871st Bomb Sq, 497th Bomb Group

Jul 30, 1919

Apr 18, 1945

Killed in Action - Air Combat in a B-39 over Japan.

Decatur Cemetery, Decatur, GA

SE
Additional Information
Missing Air Crew Report
497th Group, 871st Bomb Squadron
Type of Aircraft: B29
Departure: Saipan, Mariana Islands
Number of crew 11
Target: Tachtical Airfield, Kyusher, Japan
Mission: Bombing – 0800 am April 18, 1945
A/C SN# 42-65231   B-29 – "Gonna Maker"
Eye witness report; An Irving (KI-45 Toryu Fighter) went across B-29, A-21 (4623) from 2 o'clock high to 9 o'clock high where it turned back sharply to 5 o'clock high.  Aircraft Irving rammed by fighter.  Right wing gunner on B29 fired a continuous series of busts during maneuver causing the Irving to crash into the right wing of B29 (5231) snapping off the peonage and wing.  It fell spinning and tumbling.  No parachutes opened.  No survivors. Crew 1
st
LT Anderson, Robert J.
2
nd
LT McCausland, Robert E.
1
st
LT Christensen, Donald A.
2
nd
LT Kennedy, Maurice E.
1st LT Adams, Robert R. Sr.
SGT Aina, Pasquale T.
SGT Kopenitsi, William
S/SGT Hawkins, Raymond A.
S/SGT Sodomora, Alexander
SGT Smith, Raymond L.
T/SGT Fransen, Leroy E.     Extract from WWII Memorial website:
Enlisted in the Army Air Corps on 3 August 1942 at Cochran Field near Macon, Georgia.  Assigned to the Central Pacific Theater of Operations, 20th Air Force, 73rd Bomb Wing, 497th Bomb Group (Very Heavy), 871 Bomb Squadron, stationed at Isley Field on Saipan in the Mariana Islands.  He flew as the Flight Engineer aboard a Boeing B-29 Superfortress nicknamed 'Gonna Mak'er' (Tail #42-65231) as part of the Group formation to bomb the Tachiarai Army Airfield, Japan's southern most main island of Kyushu.  On 18 April 1945 the Japanese pilot of a KI-45 Toryu twin-engine fighter plane, which had already been hit by machine gun fire, flew head-on into the B-29 in a suicide attack, breaking off the bomber's right wing, #4 engine, and the tail section.  The aircraft disintegrated in mid-air and all crewmembers were killed.
Related Images Click to Enlarge
Extra Documents
Echo Article by Kelly Durham – Kamikaze Over Japan