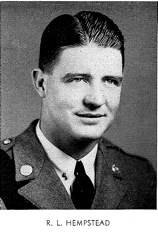 1941

Chemical Engineering

The Tiger, business manager; YMCA Council; Senior Platoon.

Atlanta, GA

Wife Louisa Ross, Son Rodney Ross Hempstead

Army, Captain

Company M, 3rd Batallion, 442nd Regimental Combat Team

Silver Star, Bronze Star, Purple Heart, Combat Infantryman's Badge

Mar 31, 1919

Aug 23, 1944

Killed in Action leading a two company patrol near San Columbano, Italy during the Rome-Amo Campaign

Westview Cemetery, Atlanta

SW
Personal Remembrances
Robert Louis Hempstead, the only child of Beatrice and Harold Hempstead, was born in 1920 in Atlanta, Georgia.  Robert majored in Chemical Engineering at Clemson College in South Carolina, which was at that time an all-male military school.  While at Clemson, he received the nickname "Pinch Penny" as the Business and Advertising Manager for ROTC, and was a member of the Presbyterian Student Association and the YMCA Council.   Robert was married to Louise Ross in Los Angeles, California, with one son Ronald Ross Hempstead.  Sadly, Mrs. Hempstead miscarried twin sons in August 1944.   Robert volunteered for active duty immediately after graduation (Serial #O-414341) and received his basic training at Fort McClellan, Alabama.  In early 1943 he was stationed at Camp Shelby, Mississippi where he was assigned to duty with the 442nd Regimental Combat Team made up of American-born Japanese troops.  Capt. Robert Hempstead was killed in action at San Columbano, Italy while serving as commanding officer of Company M during the Rome-Arno Campaign.     The following excerpt from Americans: the Story of the 442nd Regimental Combat Team written by Orville C. Shirey describes Capt. Robert Hempstead's heroic actions: "Almost immediately it was discovered that the Germans were maintaining a patrol base in San Columbano on the south side of the Arno and on the left flank of the 3d Battalion.  Captain Robert L. Hempstead, commanding officer of Company M, volunteered to lead a combined Company M and L patrol to wipe out the enemy nest.  The patrol went out August 23, taking along a forward observer from Cannon Company.   Aided by fire from Cannon Company the patrol cleared out one enemy strong point, killing eight Germans and wounding several others.  As the patrol worked its way beyond San Columbano, it was ambushed near a canal and caught in a crossfire from two enemy machine guns, supported by mortars.   Captain Hempstead, seeing the patrol was trapped, left his covered position and opened fire with a tommy gun, drawing the enemy's attention to him.  He was instantly killed by a burst of machine-gun fire, but by creating a diversion, he enabled his remaining men to withdraw to better positions and call down artillery fire on the enemy.  Captain Hempstead was posthumously awarded the Silver Star for gallantry at the cost of his life."   In addition to the Silver Star, he was awarded the Purple Heart, Combat Infantryman Badge, and Bronze Star.  He was originally interred in Vada, Italy in 1944, but was repatriated in 1949 and interred at the Westview Cemetery in Atlanta, Georgia.  Captain Hempstead was survived by his mother Beatrice Hempstead (his father had passed away earlier that year), by his wife Louise Hempstead (who passed away in 1992), and by his son Ronald Ross Hempstead, Sr., who later became the second Captain Hempstead.  His grandson, Ronald Ross Hempstead, Jr., became the third Captain Hempstead by way of West Point Class of 1984.
Katherine Baishiki/Ronald Ross Hempstead
11/9/05
Additional Information
Citation for the Silver Star:
The President of the United States of America, authorized by Act of Congress, July 9, 1918, takes pride in presenting the Silver Star (Posthumously) to Captain (Infantry) Robert Louis Hempstead (ASN: 0-414341), United States Army, for conspicuous gallantry and intrepidity in action against the enemy while serving as Commanding Officer, Company M, 3d Battalion, 442d Regimental Combat Team, attached to the 34th Infantry Division, on 23 August 1944, near San Columbano, Italy.  When it was discovered that the Germans were maintaining a patrol base in San Columbano on the south side of the Arno and on the left flank of the 3d Battalion, Captain Hempstead volunteered to lead a combined Company M and L patrol to wipe out the enemy nest.  The patrol went out with a forward observer from Cannon Company.  Aided by fire from Cannon Company the patrol cleared out one enemy strongpoint, killing eight Germans and wounding several others.  As the patrol worked its way beyond San Columbano, it was ambushed near a canal and caught in a crossfire from two enemy machine guns, supported by mortars.  Captain Hempstead, seeing the patrol was trapped, left his covered position and opened fire with a Tommy Gun, drawing the enemy's attention to him.  He was instantly killed by a burst of machine-gun fire, but by creating a diversion, he enabled his remaining men to withdraw to better positions and call down artillery fire on the enemy.
23-Aug-44 Action Date: Headquarters, 92nd Infantry Division, General Orders No. 19 (1945)
Company Commander Company M, 3rd Bayyalion, 442nd Regimental Combat Team – was an Asian American unit composed of mostly Japanese Americans who fought in Europe during World War II.  The 442nd was a self-sufficient fighting force, and fought with uncommon distinction in Italy, southern France, and Germany.  The unit became the most highly decorated regiment in the history of the United States armed forces, including 21 Medal of Honor recipients.  The motto of the 442nd Regimental Combat Team was "Go for broke."
Related Images Click to Enlarge
Extra Documents
Vignette in The Echo written by Kelly Durham – "Go For Broke"