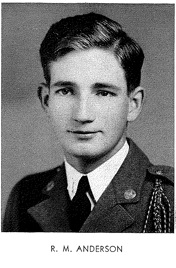 1941

Mechanical Engineering

Cadet First Lieutenant, Platoon Leader, Co. H, Second Battalion, Second Regiment; Pershing Rifles; ROTC Camp, Ft. McClellan, AL

Chester, SC

He was survived by his parents, Mr. and Mrs. F. W. Anderson, a sister, Miss Margaret Ann Anderson, and two brothers, Frank Anderson and Jimmy Anderson, all of Chester.

Army Air Force, Second Lieutenant, B-17 co-pilot

365 Bomb Squadron, 305 Bomb Group, 8th Air Force

Purple Heart

Apr 20, 1920

Jan 13, 1943

B-17 hit by German anti-aircraft over Fives, France and crashed at Pollinkhove, Belgium. All 10 crew members were killed.

Evergreen Cemetery, Chester, SC

NE
Additional Information
Summary of Missing Air Crew Report #15638, B-17 A/C SN 41-24601 – 2LT Anderson was assigned to the 369th Bomb Squadron, 305 Bomb Group (Heavy) stationed at Chelveston, England.  The Group was a subordinate command of 8th Air Force.  Anderson was assigned as co-pilot to B-17F #41-24601 piloted by 1LT Conrad Hilbinger.  On 13 January 1943, the 369th was dispatched to attack locomotive works at Lille, France.  Anderson's aircraft and entire crew were lost during the mission.
Robert Moffat Anderson, the son of Mr. and Mrs. F.W. Anderson, was born in 1920 in Chester, South Carolina.  He graduated from Chester High School, and then attended Clemson College, graduating with a degree in Mechanical Engineering in 1941.  While at Clemson, he was a member of the ROTC unit as a 1st Lieutenant, holding the position of Platoon Leader with the company.
He enlisted in the Army Air Corps' Aviation Cadet program on July 15, 1941.  He received flight training and was commissioned a 2nd Lieutenant.  After organizational and combat crew training, he was sent overseas in October, 1942.  He arrived at Chelveston, England and was assigned to the 365th Bomb Squadron of the 305th Bomb Group.
He was assigned as co-pilot to a crew headed by Lt Conrad Hilbinger.  On January 13, 1943, the crew was scheduled for a mission against the locomotive works at Lille, France.  Once the target was reached, the flak was intense but not especially accurate.  It was on the return trip over Belgium that Hilbinger's B-17 was hit with 5 bursts of flak.  The aircraft crashed near Pollinkhove, Belgium.
All the crew were killed.  The bodies were recovered and buried locally.  After the war, the remains were transferred to Ardennes American Cemetery in Belgium.  Sometime later (approximately 1945 – 1948) Lt Anderson's remains were returned to the U.S. and buried in Evergreen Cemetery in Chester, South Carolina, where he lies today.
In 2003, the inhabitants of Pollinkhove erected a monument to the crew of this aircraft.
Copied from: https://airforce.togetherweserved.com/usaf/servlet/tws.webapp.WebApp?cmd=ShadowBoxProfile&type=Person&ID=155652 .
Related Images Click to Enlarge
Extra Documents
Taking the Fight to the Germans – Echo Article written by Kelly Durham