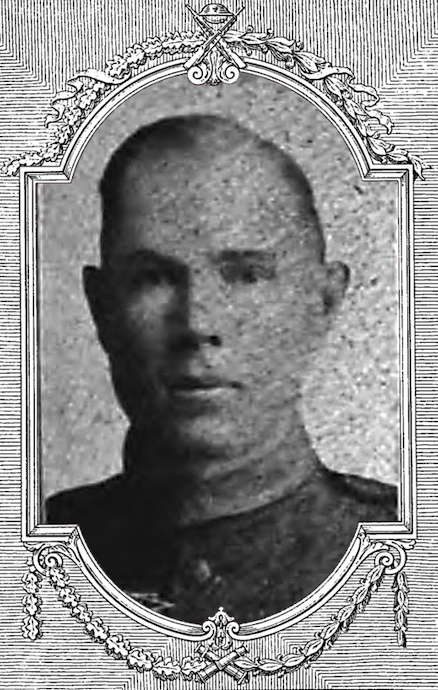 1907

Preliminary

Attended Clemson during 1903-1904 school year.

Anderson, South Carolina

Son of William Copeland Bailey and Alice Murrah Bailey; sister Cleo and brother Theodore

Army, Second Lieutenant

Company A, 114 Infantry Regiment, 29th Infantry Division

Distinguished Service Cross. Purple Heart

Jul 28, 1880

Oct 12, 1918

Killed in Action at Bois de Ormont near Verdun, France.

He is memorialized on the Tablets of the Missing at Meuse-Argonne American Military in France. There is also a memorial marker to him in the Westview Section of Old Silver Brook Cemetery in Anderson, SC - Block G - Lot 35

SE
Personal Remembrances
Excerpts taken from notes made by his sister, Miss Cleo Bailey:
"On June 6, 1916 he volunteered (enlisted) for Mexican border duty at age 32 and was assigned to Company K, 118th Infantry Regiment 30th Infantry Division, South Carolina National Guard.  He was promoted to Sergeant and shipped overseas with the 30th Division when the United States entered to war.  Bailey was in all actions with the division until he was sent to an offices school in France and promoted to Second Lieutenant September 30 1918 and reassigned to Company A, 114th Regiment 29th Infantry Division.  He was killed at Bois de Ormont near Verdun, France."
WWI - 30th Infantry Division - Excerpts from Wikipedia.com
The division was originally activated as the 9th Division (drawing units from NC, SC, and TN) under a 1917 force plan, but changed designation after the outbreak of World War I.  It was formally activated under its new title in October 1917, as a National Guard Division from North Carolina, South Carolina, Georgia, and Tennessee.  Its organization included the 117th, 118th, 119th, 120th Infantry Regiments, the 113th, 114th, 115th Artillery Battalions, the 113th, 114th, 115th Machine Gun Companies, and the 105th Engineers Battalion.  The major operations it took part in were the Ypres-Lys, and the Somme offensive.  Its total casualties were 8,415.  Its KIAs were 1,237, and WIAs 7,178.
Additional Information
The President of the United States of America, authorized by Act of Congress, July 9, 1918, takes pride in presenting the Distinguished Service Cross (Posthumously) to Second Lieutenant (Infantry) Robert M. Bailey, United States Army, for extraordinary heroism in action while serving with 114th Infantry Regiment, 29th Division, A.E.F., near Verdun, France, 12 October 1918. Leading his platoon against an enemy position, Lieutenant Bailey was fatally wounded, but refused to leave until his position was organized and a counterattack repulsed.
War Department, General Orders No. 44 (1919)
Related Images Click to Enlarge
Extra Documents
Extraordinary Heroism – Vignette written by Kelly Durham for The Echo