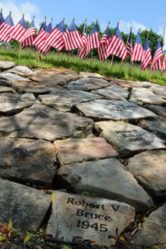 1945

General Science

Anderson, South Carolina

Army Air Force, Second Lieutenant

427th Bomb Squadron, 303rd Bomb Group

Purple Heart

May 28, 1916

Oct 9, 1943

Killed in Action in Germany.

Buried at Ardennes American Military Cemetery, Neupre (Neuville-en-Condroz), Belgium; Plot: D, Row: 3, Grave: 39

SE
Additional Information
ID: 0-676546
303rd BG (H) Combat Mission No. 76, 9 October 1943;  B-17F S?N #42-5221, Shot down by enemy aircraft
Target: Aircraft Component Plant, Anklam, Germany
Crews Dispatched: 20
Crews Lost: 2Lt B.J. Clifford – 10 KIA, Length of Mission: 7 hours, 55 minutes
Bomb Load: 3 x 1000 lb H.E. M-44 plus 5 x M47A1 incendiaries. Bombing Altitude: 13,600 ft, Ammo Fired: 52,280 rounds
Enemy Aircraft Claims: 3 Destroyed, 7 Probable, 2 Damaged
Crews ate breakfast at an early 0320 hours to make the 1,190 nautical mile trip to Anklam.  The 303rd BG(H) led eight combat wings to the target, flying at a relatively low altitude of 13,000 feet.  Aircraft #42-5221 Son 427BS, piloted by 2Lt. Bernard J. Clifford, was seen to be hit by 20mm cannon fire from a formation of three FW-190s flying abreast.  The approximate position was at the Danish coast.  It was last seen at 8,000 feet, with its No. 3 engine on fire and feathered.  When the wheels were let down, the fighter attacks ceased.  The entire crew was on their fourth combat mission.  The B-17 crashed in the Baltic Sea south of Lolland, Denmark. Lt. Clifford, 2Lt. Charles O. Jahn, 2Lt. Charles M. Stata, 2Lt. Robert V. Bruce, S/Sgt. A. E. Horning, T/Sgt. F.G. Hartzog, S/Sgt. Charles L. Gale, S/Sgt. J.L. McLarty, T/Sgt.  Andrew A. Dyke and S/Sgt. W.O. Heller were all killed in action.  Lt. Bruce and T/Sgt. Dyke are buried in Ardennes American Cemetery near Liege, Belgium – Extract from: 303rdbg.com/
Crew List:
B-17F #42-5221 Son
P Clifford, Bernard J., Lt
CP Jahn, Charles O., Lt
NAV Stata, Charles M., Lt
BOM Bruce, Robert V., Lt
ENG Dyke, Andrew A., Lt
TT Horning, A.E., S/Sgt
RO Hartzog, F.G., T/Sgt
BT Gale, Charles L., S/Sgt
TG Heller, W.O., S/Sgt
LWG McLarty, J.L., S/Sgt
The aircraft belonged to USAAF, 8 Air Force, 303 Bomb Group, 427 Bomb Squadron. T/O Molesworth. OP: Anklam.  The aircraft is believed to have crashed into the Baltic Sea between Falster and Fehmarn killing the crew of ten at 12:20 hours.
On 13/11 the dead body of Bombardier 2nd Lt. Robert V. Bruce was found on the beach of Dazendorfer Strand in Holstein, Germany and was laid to rest in Heileigenhafen cemetery on 15/11.  Today he rests in the Ardennes American Cemetery in Neupre, Belgium.  The body of Rear Gunner S/Sgt William O. Heller was found near Fredericia.  He was brought to Esbjerg and laid to rest in Fovrfelt cemetery on 13/11, 1943.  His remains were taken to Ardennes American Cemetery in Neupre, Belgium on 30/6, 1948.  Today he rests in the USA.  Flt.Engr./Right Waist Gunner T/Sgt Andrew A. Dyke was found close to the shore 4 miles east of Rodbyhavn at noon on 19/11 by Fisherman Viggo Hansen, Nysted.  The body was taken to the chapel at Rodby Hospital and identified.  On the afternoon of Saturday, 20/11, 1943; he was laid to rest in Rodby Cemetery.  Reverend Klessen of the Catholic church in Maribo officiated at the graveside ceremony.  The ceremony was attended by the Judge and Head of Police in Maribo, the Mayors of Rodby and Maribo, as well as quite a few of the local citizens of Rodby.  On 28/4, 1948, his remains were moved to the Ardennes American Cemetery in Neupre, Belgium.
Pilot 2nd Lt.Bernhard J. Clifford today rests in the USA while Co-pilot 2nd Lt. Charles O. Jahn; Navigator 2nd Lt. Charles M. Stata; Top Turret Gunner S/Sgt Allan E. Horning; Radio Operator T/Sgt Foy G. Hartzog; Ball Turret Gunner S/Sgt Charles L. Gale and Left Waist Gunner S/Sgt Jack L. McLarty have no known graves, and their names are found on Tablets of the Missing at Cambridge American Cemetery in Cambidge, England.
Extract from https://www.flensted.eu.com/19430109.shtml
Related Images Click to Enlarge
Extra Documents
A Victory of Sorts – Vignette in The Echo written by Kelly Durham