Rufus Randolph McLeod, Jr.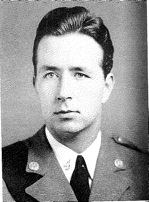 1941

General Science

Cadet Lieutenant Colonel, Commander, First Battalion, First Regiment; Scabbard and Blade; Sigma Phi; Calhoun Forensic Society; Commencement Marshal; Marksman, ROTC Camp, Fort McClellan, AL; Honor Military Graduate.

Hartsville, SC

Wife: Margie Conwell

Army Air Force, First Lieutenant

60th Fighter Squadron, 33rd Fighter Group

Apr 24, 1920

Dec 7, 1942

Killed in the crash of his P-40 aircraft in Africa.

North African American Cemetery in Carthage, Tunisia, Plot I, Row 15. Grave 12 

NW
Additional Information
Last Known Activity
Rufus Randolph McLeod, Jr. was born in 1920 in Hartsville, South Carolina, the son of Mr. and Mrs. R.R. McLeod, Sr.  After attending high school, he entered Clemson College in 1938, graduating with the class of 1942.  He was commissioned a 2nd Lieutenant upon graduation, and sent to Camp Croft at Spartanburg, South Carolina.  He was accepted into the Aviation Cadet Program and received flying training at Hicks Field, Texas; Goodfellow Field, Texas; and Foster Field, Texas.  He graduated and was awarded pilot wings in April 1942.  He was then assigned to Bolling Field, Washington D.C. where he was promoted to 1st Lieutenant and was made a flight commander.  On August 19, 1942, he married Miss Margie Conwell of Atlanta, Georgia.
He deployed to North Africa in October, 1942 with the 33rd Fighter Group.  Here he was assigned to the 60th Fighter Squadron and began flying combat missions over North Africa and Italy.  A newspaper article states he was in line to be promoted to Captain.  According to records, he was taking off from his base in Tunisia on a fighter sweep mission when the aircraft suddenly crashed, killing Lt. McLeod.  His body was recovered and was buried in the North African American Cemetery in Carthage, Tunisia where he lies in Plot I, Row 15. Grave 12.
Lt. Rufus Randolph McLeod, Jr. was flying P-40F # 41-14376 when he was killed.  Because the body was recovered, no Missing Air Crew Report was issued, and neither was a USAAF Accident Report.  He was the first pilot fatality of the 60th Fighter Squadron.
https://raf-112-squadron.org/33rdfghonor_roll.html
www.findagrave.com/search
www.cualumni.clemsom.edu/?page.aspx?pid=1621
www.historyofwar.org/air/units/usaaf33rd_Fighter_Group.html
The State Newspaper (Columbia, SC) issue of 1/19/1945, page 5b
Extracted from: https://airforce.togetherweserved.com/usaf/servlet/tws.webapp.WebApp?cmd=ShadowBoxProfile&type=Person&ID=160515
Related Images Click to Enlarge