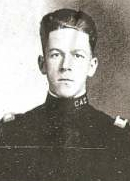 1915

Agronomy

Cadet Captain; Assistant Business Manager Chronicle '14; Business Manager Taps '13; Quartet; Matinee Club; Palmetto Literary Society; YMCA; Chairman Ring Committee; Ladies' Men's Club; Assistant Manager of the Baseball team, Scrub Football

Liberty Hill, SC

Army, First Lieutenant

Machine Gun Battalion, 87th Infantry Regiment

Sep 17, 1894

Oct 9, 1918

Died of Pneumonia, Camp Dodge, Iowa

Liberty Hill Presbyterian Church Cemetery, Liberty Hill, SC

NE
Personal Remembrances
The following letter was written to Mrs. J. G. Richards, the mother of Lieutenant Richards by a comrade in arms Lieut. Barkley A. Storey:
Dear Mrs. Richards:
Please allow me to express my deepest sympathy and grief to you over Steve's death.  We received a telegram yesterday telling of the saddest thing which has ever happened to me.  Dick, as we all loved to call him, was a brother to me and I don't believe any on one ever knew him better or loved him more.
I  know it will give you a feeling of pride when I say he was the cleanest and most upright man I know.  His life is an open book for any one to follow.  He was above the low things of life and no one ever heard him make malicious cutting remarks about his fellow officers.  His men loved and admired him, as he possessed the ideal qualities of a leader.  He made a splendid officer.
We have been together constantly for nearly a year and during that time under many and varied conditions but not once did he fail to measure up to what you would have him a man.  When we were sad or discouraged it was always Dick who cheered us up; in time of uncertainty it was always Dick who stood up for the right and carried us through; then when we were happy and on a lark it was always he who led the fun and was the most joyful.
It is so hard for him to die a death like that.  If it had to be why could it not have been in battle fighting for his country, as he would have so wanted it to be.
In life I would have done anything in the world for him.  So now please never fall to call on me for anything I can ever do for him or any one who as dear to him.  I will always love him with the love of a brother.
My heart goes out to you and I think of my own mother and my wish is that I might comfort you and be of some help.
Additional Information
Stephen Malone Richards volunteered as soon as war was declared and was called for the second officers' training camp at Fort Oglethorpe.  He won the commission of a first lieutenant and was assigned to Camp Gordon and from there he went to Toledo, Ohio and then to Camp Dodge, Iowa, and there he died from pneumonia.  He was serving there as an instructor.  He had applied for duty in France and was anxious to go.  He had been recommended for promotion to be a captain, and it is certain that he would have been promoted at an early date.  He graduated from Clemson College as captain of his company in 1915.  He was a member of the Eighty-seventy infantry.
His comrades loved him.
Related Images Click to Enlarge