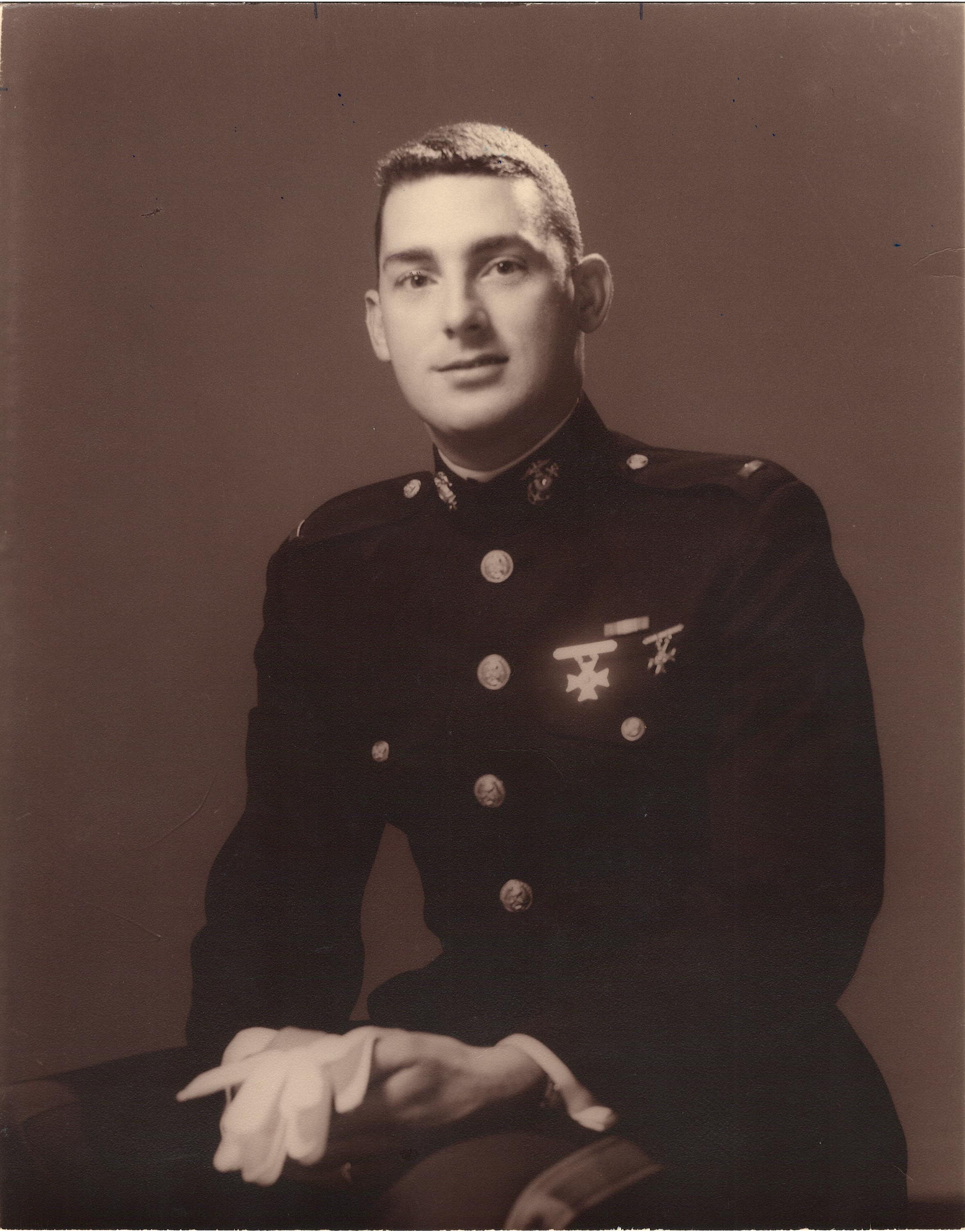 1966

Economics

Kappa Sigma Nu 2, 3, 4; Canterbury Club 2, 3

Winnsboro, SC

Wife: Evelyn Elkin Hilton; Daughter: Elizabeth Anne Hilton

Marine Corps, First Lieutenant

A Company, 1st Battalion, 1st Marines, 1st Marine Division, III Marine Amphibious Force

Purple Heart; National Defense Service Medal; Vietnam Service Medal; National Order of Vietnam, 5th Class; Republic of Vietnam Gallantry Cross Unit Citation with Palm; Republic of Vietnam Campaign Medal.

Nov 16, 1943

Aug 25, 1968

Killed in action. Lost in ground action due to small arms fire while leading his platoon to the aid of a surrounded recon team southwest of Gio Linh near the Demilitarized Zone in Quang Tri Province, South Vietnam.

Lt Hilton's body was recovered and is buried in the Episcopal Cemetery in Winnsboro, SC.

NW
Personal Remembrances
"Steve was my big brother, my hero, and my best friend.  He was five and one half years older than I, but he always had time for his little sister.
When we were growing up, we all had chores and Steve had a green thumb.  While he was moving things around with the wheelbarrow, he would often give his little sister rides around the yard.
As we grew older and I started taking ballroom dancing lessons, Steve would practice with me for hours.  When some of my girl friends tried to use me to get close to Steve, he let them know politely, but firmly, that they were my guests and he would not allow me to be used and hurt by them!
I could talk to Steve about anything and he always kept my secrets.  If he felt there was something he needed to share, he always told me first.  He never betrayed a confidence!
Sometimes, when I was at boarding school in Asheville, N.C., and Steve was at Clemson, he would come over on Sunday and take me out for the day.  Those were truly special and treasured times, then and now.
Steve played the saxophone and the piano and he loved the music by the trio Peter, Paul and Mary and Rick Nelson.  Before he left for Vietnam, he especially liked the song, "Ode to Billie Joe" by Bobbie Gentry.
Steve loved sports.  He played baseball and football and was a lifeguard at our county swimming pool during the summer.  He also enjoyed playing golf.  When I took the lifesaving course at the pool, Steve was my partner.  He was willing to do whatever he could to help me achieve my goals and was always so proud of me when I did.
People of all ages loved Steve.  He was so easy to be around and a lot of fun.
Steve left for Viet Nam the Monday after Thanksgiving.  At his request, we said our goodbyes at home.  I had a feeling it would be the last time I saw him, but I prayed I would be wrong.  Sadly, I was not!  Steve was killed on 25 August 1968.
Steve met the LOVE of his live, Evelyn 'Evie' while he was at Clemson and they were married on December 27, 1966, after Steve's graduation from Clemson.  She was pregnant when he left for Viet Nam and Steve was on cloud nine that he was going to be a father.  Elizabeth Anne Hilton was two and one-half months old and Steve never was able to hold his beautiful daughter in his arms.  He saw many pictures, of course, and had lots of letters from all of us telling him all about her, but he never got to see her or hold her himself."
Lois Hilton Thayer
Stephen's Sister
I was a childhood friend and high school classmate of Steve's.  We were good friends from 4th grade through our senior year in high school in Winnsboro.  He was a very loyal and duty and honor conscious person, traits that I'm sure he showed as a Marine officer.
We spent a lot of our early lives trying to get as many wins as we could for the Tigers and Brooklyn/LA Dodgers.  After the Dodgers won the 1955 World Series, we made our first, and last, venture into joint entrepreneurship.  We compiled short bios of the principal players and Steve's mother printed them at work.  We intended to sell them at school for a nickel apiece.  We were excited about it.  We sold ONE at a price of 3 cents.
Over the years, through sleepovers, occasional designs on the same girl, and everyday interactions, our friendship was stronger at some times than others, but it was always there.  The last time I remember seeing him, the summer after our high school graduation, he encouraged me to pursue my dream of a radio career.  That particular path did not work out, but it's been a great life anyway, Steve.  I just wish you had been around to share more of it.
Keith Brewington
April 19, 2010
Additional Information
Family members and friends have endowed an ROTC scholarship at Clemson in memory of Stephen Randolph Hilton and two other Winnsboro natives who were lost in Vietnam.
Lt Hilton's name is listed on the Vietnam Veterans Memorial Wall in Washington, DC on Panel 46W, Line 015.  His name is also listed on a monument in Winnsboro, SC dedicated to Vietnam War casualties from Fairfield County.
Lt Hilton was a member of the Marine Corps Officer Basic Training School, Class 6-67, at Quantico, VA, graduating as a Second Lieutenant on 1 November 1967.  According to an article in the November 2002 edition of the Marine Corps Gazette by Lt Col Jack Wells, USMCR (Ret), this class sent more Lieutenants off to battle and suffered more officers killed or wounded than any Basic School class since the Korean War.
On April 25, 2014 a monument was dedicated at the Marine Corps Officers Basic School at Quantico, Virginia in honor of the 50 members of Class 6-67 of that school who gave their lives in service to the United States.  Forty-three members of that class were killed in combat in Vietnam, including 1Lt Stephen R. Hilton and 2Lt Richard W. Kapp, Jr., both Clemson Class of 1966 alumni.
The following was taken from an obituary article printed in The State Newspaper, Columbia, SC on September 3, 1968, Page 13A, and was researched and provided on 22 November 2009 courtesy of Ms Debra Bloom, Local History Manager, Richland County Public Library, Columbia, SC.
Winnsboro Marine Dies in War
First Lieutenant Stephen Randolph Hilton, 24, of the U.S. Marine Corps, was killed in action Aug 25 in Quang Tri Province, South Vietnam.  Born in San Luis Obispo, California, he was the son of Mr. and Mrs. Robert E. Hilton Sr. of Winnsboro.  He was a 1966 graduate of Clemson University, a member of Kappa Sigma Nu Fraternity and St. John's Episcopal Church.
Surviving besides his parents are his widow, Mrs. Evelyn Elkin Hilton of Augusta; a daughter, Elizabeth Anne Hilton; a brother, Robert E. Hilton Jr. of Baltimore, MD.; a sister, Miss Lois Ruth Hilton of Winnsboro; his paternal grandparents, Mr. and Mrs. John R. Hilton of West Columbia; and his maternal grandmother, Mrs. A. E. Jury of Winnsboro.
Related Images Click to Enlarge
Extra Documents
Heavy Fighting, "Light Casualities" – Vignette written by Kelly Durham for The Echo