Theodore (Ted) Rhett Harley, Jr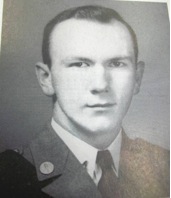 1940

Chemistry

Cadet Sergeant, Second Lieutenant; Alpha Chi Sigma; R.O.T.C Camp, Fort McClellan, Alabama

Hartsville, South Carolina

Parents - Theodore Rhett Harley and Pearl White Harley

Army, First Lieutenant

148th Infantry, 37th Infantry Division

Purple Heart

May 19, 1919

Aug 3, 1943

Killed in Action in attack on Munda airfield, New Georgia Island.

Magnolia Cemetery, Hartsville, SC

SW
Additional Information
Action of the 148th Infantry at the time of Lt Harley's death: The remainder of the 145th and 148th Infantry arrived at Rendova, New Georgia 7 Jul 43 and engaged in heavy fighting for Munda Airfield under the 43rd Infantry Division.  The 148th Infantry attacked Barley Ridge and then shifted its assault to Horseshoe Hill where it was surrounded 26 Jul-1 Aug 43 until the Japanese evacuated their positions.  The 145th Infantry finished clearing Bartley Ridge 31 Jul 43.  The rest of the division had arrived on New Georgia in the meantime on 22 Jul 43 and all elements reverted to its control, and Munda Airfield was finally seized 5 Aug 43.
Extract from https://ranger95.com/divisions/37th_ID_ord_bat_hist_ww2.htm
Related Images Click to Enlarge
Extra Documents
Vignette in The Echo written by Kelly Durham – Turning the Tide