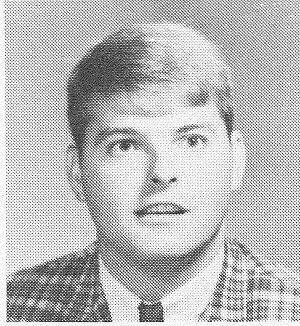 1967

Business Administration

Football 1

Seneca, SC

Wife: Gracie Manley Moore; Daughter: Michelle

Army, Sergeant E-5

C Company, 2nd Battalion, 506th Infantry, 101st Airborne Division, US Army Vietnam

Bronze Star, Purple Heart, Air Medal, Army Good Conduct Medal, National Defense Service Medal, Vietnam Service Medal, Republic of Vietnam Gallantry Cross Unit Citation with Palm, Republic of Vietnam Campaign Medal, Combat Infantry Badge.

Mar 10, 1945

Dec 30, 1969

Killed in Action. Lost as a result of hostile ground action in Thua Thien Province, South Vietnam.

SGT Moore's body was recovered and is buried in Oconee Memorial Cemetery in Seneca, SC.

SE
Personal Remembrances
Tommy....my heart...knowing him and loving him was worth the irreparable damage done to my heart, my soul, and my spirit at losing him.  Our hearts still beat as one and our love lives on in our precious Michelle.
He had just  begun to live....to dream ...when his journey here ended.  Clemson University played a big part in his life and helped him in preparation for what we thought would be our future.  He left this dimension with many fond memories of his time at Clemson and his connection with the campus, his friends there, and, of  course, the "Tigers".  Who can live in this area and not have some tie to "our" Tigers?
Yes, he gave his life for me, for Michelle, and for our great country and those who people it.  I must believe there was purpose in this great sacrifice.
Gracie Moore Hunter
Seneca, SC
April 21, 2010
My name is Antonya Michelle Moore and proud to be named after my late father Thomas "Tommy" Anthony Moore and his favorite Beatles tune.  I was born in June of 1969 but it was not the summer of love for my family.  It was the time when my dad had graduated college and on the same day received his draft notice as well.  He had 10 days to report for active duty.  But instead of fleeing to Canada like some men have done, he followed Uncle Sam's call to do the right thing.  He was a SGT in Co C, 506th Infantry, 101st Airborne Division.  He served bravely and was killed within his first 30 days in Vietnam.  He was 24 years old.  I was six months old.  My Mom was 21 years old and suffered a complete nervous breakdown over the death of my beloved father.
I am now a grown women and a Clemson Alumni (Class of 1993). I will always be a broken hearted little girl who has grown up visiting his grave site to have our one on one talks, and relishing every story ever told to me about my father, so that I could piece the puzzle together in my own head. Not a day goes by without me wondering how things would be different if not for his early death, or if I will ever make him as proud as he has made me. Sometimes I think so many families have shared the same sorrow; my heart breaks for them as well.
Not a friend or family member can say much about him without a tear in their eye that could burst out into a wail if they continue. Although I am sure he wasn't perfect, no one has ever said anything bad about him (to me.) One day on my way to class at Clemson, the shuttle bus driver and I just struck up a conversation. For some reason I told him who I was, and before I knew it he was telling me a story about my Dad from high school, while tears streamed down his face. I can't remember if I ever made it to class that day.
From all that I have been told, I know that my Dad loved golf and football (Especially Clemson!). He was a star in high school. He also worked at/managed the local Seneca movie theater. He would bring my grandmother popcorn and they would talk for hours about the latest movie. He lived in Hawaii for a year to be close to his sisters, but was a true Southerner at heart. He told my mom that she would be his wife on their first date and had the ability to make those around laugh like children. Sounds like a great man, who I am honored to call my father. His adoring daughter, Michelle.
Antonya Michelle Moore '93
Seneca, SC
April 18, 2010
The following tribute was copied with the approval and provided courtesy of the Vietnam Veterans Memorial Wall Page, www.thewall-usa.com.
We were drafted and spent basic and AIT together. We had consecutive serial numbers. I think there were 52 of us from Oconee County that went together. I am from Walhalla and several of us went home together on weekends. Both of our wives were pregnant and we were both selected to go to NCO school. He chose to go to school so he would be at home when his baby was born. I chose to go on and get it over with. He loved his family and talked about his wife and brother Scotty all the time. He did get to see his baby and I didn't see Heather until she was almost a year old. He was a good man and would have been a great father. I still think about him a lot. One of his hobbies was knowing the flip side of records - the song on the other side of a hit record. I don't know how good he was, but he impressed me.
Joe Murphree
July 05, 2001
Additional Information
SGT Moore's name is listed on the Vietnam Veterans Memorial Wall in Washington, DC on Panel 15W, Line 110.  His name is also listed on a memorial to residents of Oconee County, SC who have died in foreign wars.  The Memorial is located in front of the Oconee County Courthouse in Walhalla, SC.
The following was compiled from obituary articles printed in the Greenville News, Greenville, SC on January 10, 1970, page 22 and January 11, 1970, page 8 and from the Oconee Courier, Seneca, SC.  They were researched and provided courtesy of Ms. Susan Boyd and Ms. Cathy Jaeger from The South Carolina Room of the Greenville County Library, Greenville, SC; Ms. Debra Bloom, Local History Manager, Richland County Library, Columbia, SC; and Mr. David Lyle, Chairman, Clemson Corps Board of Directors, Walhalla, SC.
14th Oconeean Killed In War
Mr. and Mrs. Clyde Moore of Seneca were notified by the U.S. Army that their son, Sgt. Thomas Anthony (Tony) Moore, 24, was killed in action last Tuesday, Dec. 31, in the Vietnam conflict.  Sgt. Moore became the 14th Oconeean to lose his life since the Vietnamese fighting started.  Funeral services will be on Sunday, Jan. 11, at the Seneca Baptist Church with the burial following in Oconee Memorial Park with military rites.
A native of Seneca, he was a graduate of Seneca High School, attended Clemson University, and was a graduate of Central Wesleyan College in Central, SC.  He received his basic training at Fort Jackson, SC and Fort Benning, GA, and had been in Vietnam one month.
Surviving, in addition to his parents, are his wife, Mrs. Gracie Manley Moore; a daughter, Michelle Moore of the home; a brother, Scott Moore of Charleston; and three sisters, Mrs. Bob McGuinn of Greenville, Mrs. Mike McCormick and Mrs. Betty Brown, both of Hawaii.
Related Images Click to Enlarge