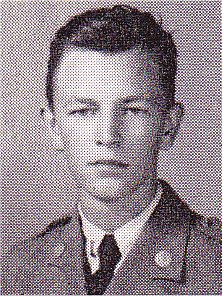 1942

English

Attended Clemson during the 1938-1939 school year. (Graduated from Ga Tech in 1942)

Laurens, SC

Wife - the former Frieda Dekker

Navy, Lieutenant (jg)

Assigned to Navy Fighter Squadron VF-74 (F4U-1 Corsair) on the USS Kassan Bay carrier which was in combat in France. The Kisson Bay returned to the United States in September 1944. The Squadron was decommissioned and the plains and pilots were assigned to other carriers. LT(jg) Kendrick was assigned to Bomber Fighter Squadron VBF-89 USS Antietam.

He was awarded the Distinguished Flying Cross for "heroism and extraordinary achevement" while participating in aerial flights as pilot of a carrier-based naval fighter-bomber during the Allied invasion of southern France in August 1944. LT(jg) Kendrick was awarded the Purple Heart.

Aug 9, 1921

May 31, 1945

Killed in Action. LT(jg) T.F. Kendrick, pilot of a F4U-4 BuNu 81553,VBF-89 USS Antietam died in the vicinity of Panama enroute to the Pacific area of operations.

Laurens City Cemetery

SE
Additional Information
Excerpt on his service in France:  
"Just a little on VF 74 that I ran across this afternoon. When the Kasaan Bay returned to the states in Sept. '44, VF 74 was decommissioned.  The planes and pilots were assigned to other carriers and designations.  I know a couple of the pilots were assigned to the Shangra La as VC 89, also members were in VBF 85 and Observation Fighting Squadron 1.  Not sure which ships, but I think the Wake Island was one of them.  I do have the deck logs and after action reports for VF 74 during Aug. 15-29, 1944
Comments and other information about Lt Kindrick was provided by Ethel Crisp Taylor- Webmaster and Author.
Extracts of deck logs and after action reports for VF 74 during Aug. 15-29, 1944 that highlights activities of Ensign Kendrick August 20 1944
This was a day of tragic misfortune, on which the Squadron Commanding Officer crashed in flames north of Lyon, another pilot, Lt. (jg) Arbuckle, failed to return from a mission in the vicinity of Toulouse France and is missing in action, and a third pilot, Ensign Hulland, bailed out of his plane near the Spanish border.  On the brighter side of the ledger, although still connected with misfortune, are the facts that Ens. Hulland was last seen to land safely and hide his parachute.  Ensign Kendrick was able to bring safely back to base a plane whose controls were partially severed and whose starboard horizontal stabilizer was almost entirely blown away by the blast of an exploding ammunition wagon and Ensign Clancy landed safely at Ramatuelle airstrip on St. Tropez peninsula in a plane whose port wing had been cut almost in half by a high tension wire.
August 25 1944
Swinging to the Southwest over Montpellier, the planes continued beyond that city to Balaruc (S-0929), where an enemy convoy of cargo and tank trucks was sighted.  Poor weather was encountered in this area and the flight let down under low clouds (ceiling 600 ft.) to strafe the convoy.  It was here that Ensign Kendrick's plane was damaged when he strafed a string of four (4) ammunition wagons parked by the road, going down to 50 ft. to do so.  One of the wagons exploded, throwing debris high into the air and knocking off three feet of the starboard elevator and two feet of the starboard stabilizer.  After a couple of further strafing runs, Kendrick noticed his plane handled peculiarly and he called Lieut. Thomas, the flight leader, to say he had been hit and to ask Thomas to inspect it.  At this point (about 1045 B) Arbuckle was still flying wing on Thomas.  Thomas circled to enable Kendrick to join up on him and, when Kendrick did so, saw the extent of the damage to Kendrick's plane and ordered Kendrick and Lieut. Hogan to return to base.  Hogan's plane had also been damaged, his by small arms fire which had hit the hydraulic pump.
Kendrick, Hogan, Thomas and Shroff returned safely to base.  Kendrick made a normal landing despite the damage to his plane, although it developed upon landing that had he made any violent maneuver whatever his controls would have gone; his controls had been almost completely severed by a bullet.
Related Images Click to Enlarge