Tourie Briggs Rickenbaker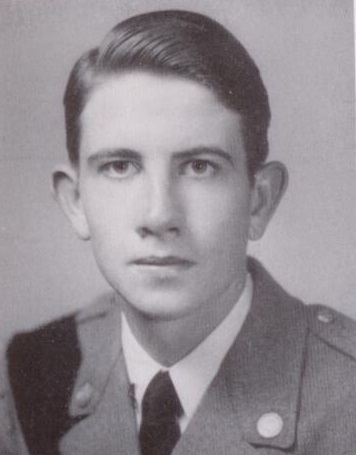 1943

Animal Husbandry

Private, Corporal; Sergeant; Second Lieutenant; Animal Husbandry Club, Dairy Club; Clarendon Club; Block and Bridal Club; Cane and Halter Club; Canterbury Club; Winner Judging Contest ; Winner Swift Essay Contest

Summerton, SC

Mother - Mrs. W. W. Rickenbaker

Army, Staff Sergeant

335th Infantry Regiment, 84th Infantry Division

Silver Star, Purple Heart

Oct 18, 1922

Feb 25, 1945

Killed in Action in Germany

Netherlands American Cemetery, Margraten, Netherlands; He is also memorialized with a marker in Saint Marks Episcopal Cemetery

NE
Additional Information
General Orders for conspicuous gallantry and intrepidity in action against the enemy while serving with the 84th Infantry Division during World War II.
General Orders: Headquarters, 84th Infantry Division, General Orders No. 58 (1945) Silver Star (posthumous) –
Staff Sergeant TOURIE B RICKENBAKER 34843808, 335th Infantry, United States Army.  For gallantry in action against the enemy in Belgium 3-4 January 1945.  During an attack by his company supported by tanks, Staff Sergeant Rickenbaker, together with one officer and seven other soldiers, disregarding his safety under intense enemy mortar, machine gun and small arms fire, displaying courage and aggressiveness, assisted in killing twenty-nine Germans and capturing twenty-five prisoners while his unit was seizing its objective.  On the following day, during an advance on an enemy-held town, Staff Sergeant Rickenbaker, fighting fiercely with his group, accounted for an additional forty dead Germans and twenty-two prisoners and contributed materially to the capture of the town.  Staff Sergeant Rickenbaker was subsequently killed in action on 25 Feburary 1945.  The superior performance of duty, initiative and commendable conduct exhibited by Staff Sergeant Rickenbaker are in accordance with the finest traditions of the military service. Entered military service from South Carolina.
Note: Tourie's brother, Dibble, was killed in an aircraft training accident in California in July, 1943.
Related Images Click to Enlarge
Extra Documents
The second brother to die in WWII, SSgt Tourie R. Rickenbaker '43 lost his life on the German front… – Vignette Written by Kelly Durham for The Echo