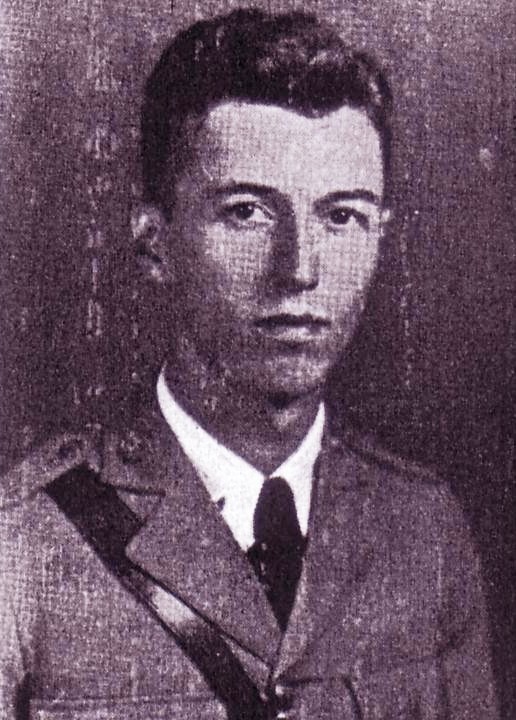 1934

Mechanical Engineering

Band, Concert Band, A.S.M.E., ROTC Swim Team

Florence, South Carolina

Wife: Virginia Jackson Stanley, a resident of Clemson, SC. One son Tracy H. and a daughter. Beverly Jackson Ward

Army Air Force, Major

52nd Troop Carrier Wing

Purple Heart

Aug 20, 1912

Jul 11, 1943

Finding of Death - Died as a result of "friendly fire."

Sicily-Rome AMC, Plot A, Row 5, Grave 45; Memorial marker at Old Stone Church Cemetery, Clemson, SC.

SE
Personal Remembrances
MAJOR TRACY JACKSON WAS OBSERVER ONBOARD OF C-47 AIRCRAFT 42-23506 FROM THE 316TH TROOP CARRIER GROUP DURING OPERATION HUSKY II, SICILY-JULY 11, 1943.  THE AIRPLANE WAS SUBJECTED TO FRIENDLY FIRE.  AFTER THE PARATROOPER'S FROM THE 376TH PARACHUTE FIELD ARTILLERY BATTALION JUMPED FROM THE PLANE, THE C-47 WAS HIT AGAIN AND EXPLODED MIDAIR.  HIS REMAINS WERE NEVER RECOVERED.  HE IS MEMORIALIZED ON THE WALL OF MISSING OF THE SICILY ROME CEMETERY.    By Jon Bos
Both Major Tracy Jackson, class of 1934, and Captain Walter Scott Nelson, class of 1939, were killed by friendly fire from the US Navy and/or American units already ashore on the south coast of Sicily.  Both men were in the same serial from the 316th Troop Carrier Group.  I do not know how close both planes were, but both men were in different planes.  They were part of a 144 plane formation, 23 [twenty three] were shot down in about 20 minutes time by friendly fire.  Captain Nelson's plane crashed near Scoglitti (on the coast of southern Sicily), while the plane Major Tracy Jackson exploded either midair or crashed into the Mediterranean Sea.
Many young Americans were killed by American gunfire.  On board the planes were paratroopers from the 504th Regimental Combat Team (1st and 2nd Battalion 504th Parachute Infantry regiment, C Company 307th Airborne Engineers and the 376th Parachute Field Artillery Battalion), all 82nd Airborne Division.
Please note that this was the first invasion of Europe.  There were over 3,000 ships of all kind offshore the coast of Sicily.  The fleet had been subjected to air raids from German planes all day of the 10th and 11th of July.  On that fatal day (11 July) ships have been hit, sailors, mariners and soldiers have been killed and wounded.  The main bomber of the German Luftwaffe was the double engine JU 88.  Some 20 to 30 minutes after the last German bomber had cleared the sky over the fleet, the first double engine C-47s came over.  Someone panicked and thought that the Germans had launched another air raid and opened fire as more and more ships joined.  When the formation neared the coast, gunners on the ground also opened up.  This is the main reason why all Allied planes during operation Overlord (Normandy June 1944) had black-white stipes recognition/ identification!!
I have all the names of men killed in this tragedy.  I also have the information about Walter Scott Nelson; I have met his daughter Sandy, who was just three days old when her father was shot out of the sky.  I am still in touch with her.  Sandy and I and several other veterans/family members had a ceremony on the beach at Scoglitti, several hundred yards away from the place where Walter's C-47 crashed that fatal day was 11 July 1943.  I have also met Virginia Stanley, Tracy Jackson's widow during one of my visits to the States.
Greetings from overseas,
Jan Bos
Nijmegen Holland
I was researching honorees on the Scroll of Honor around 2010 and contacted Virginia Jackson Stanley, the widow of Major Tracy Jackson.  She was living in  a retirement community in Clemson and I arranged a visit to discuss her former husband.  Sometime during our conversation I asked her how she met Tracy.  This is what I remember of that conversation: Virginia had grown up in Clemson.  One day she as at the Holtzendorff  YMCA pool located in the basement.  At the time she was 16 and enjoying  a swim.  She noticed that a freshman with a shaved head seemed interested in her.  When she was ready to leave he asked her if he could walk her home.  They dated, fell in love and eloped.  Much later in life after Tracy's death she married Professor Edward Stanley, a university professor of mathematics and a widower.  Virginia died in 2011.
Dawson Luke,  Class of 1956
Additional Information
MACR/Accident report # 768     
Aircraft Model: C-47A   S/N#: 42-235706
Organization: Location – Enfidaville, A(?). Field No., 1;
Command – NAAF  Group- 316th T.C. Group;  Squadron – 45th T.C. Sqd;
Place of Departure: Enfidaville, Field No. 1;
Target or Intended Target – DZ near Gala, Sicily;
Type of Mission – Night paratroop drop
Date: 11 July, 1943     Time: App. 2107 GMT            Location of Crash: App. 3 mi. NW of Gala
Reason:Aircraft was Lost: Accidentally fired on by friendly ground and naval A/A guns.
Number of Persons Aboard Acrft: Crew – 5,   Passengers – 18   Total – 23
List of Crew:
Pilot: Dekker, Williams N. – Major       0-395478
Co-Pilot: Dobbins, Charles M. – Captain    0-789693
Navigator: Armstrong, Don (NMI) – 1st Lieut.   0-426329
Crew Chief: Morgan, Edwin T. –  T/Sgt.      39021529
Radio Operator: Mayo, Williams K. – M/Sgt.      14077852
Passenger: Kerrans, Charles M. – Brig. Gen  0-12504
Passenger: Jackson, Tracy H. – Captain    0-315620
Also 16 paratroopers who are definitely known to have jumped at predetermined drop zone prior to plane's difficulties.
Eye Witness Account by Captain Edwin L. Minor on Circumstances Pertaining to Disappearance of Missing Aircraft 42-23506
I last saw 506 piloted by Major Dekker and Captain Dobbins heading along the coast northeast from Gala, just off shore.  At this time (approximately 2113 GMT) the plane flew through a barrage of anti-aircraft fire, both from the ground and from the naval vessels, at which time I lost sight of it and proceeded home.  The guns are believed to be friendly because they were located at points known to be in our possession, and also because in some cases they ceased firing when the recognition signal was flashed.
Related Images Click to Enlarge
Extra Documents
Vignette in The Echo written by Kelly Durham – From Love Story Ends In Friendly Fire