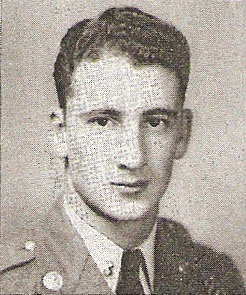 1944

Electrical Engineering

Freshman basketball team

Sumter, South Carolina

Marine Corps, Captain

Fighter Squadron 323, Marine Air Group 12 aboard the aircraft carrier USS Badoeng Strait (CVE-116)

Distinguished Flying Cross, Purple Heart, Korean Service Medal, United Nations Service Medal, National Defense Service Medal.

Feb 22, 1923

Aug 11, 1950

Captain Moses was the pilot of a F4U-4B Corsair fighter with Marine Fighter Squadron 323, Marine Air Group 12 aboard the aircraft carrier USS BADOENG STRAIT (CVE-116). On August 11, 1950, while on a combat mission of strafing enemy positions west of Kosong, Korea, his aircraft received a direct hit by anti-aircraft fire and crash landed.

Moses is buried in Arlington National Cemetery; Section 3, Site 1805 (Previously buried at Masan, Korea).

NW
Personal Remembrances
The tall athletic Captain started in the Marine Corps with his twin brother Herbert and together they went through Marine Flight training at Pensacola.  Both were electrical engineering students at Clemson College and both quite to join the Marines as radar technicians.  Moses' brother resigned to go into business, but Moe stayed on and was promoted to Captain last year.
There was little time for mourning in the briefing room.  The boatswain's whistle piped over the loud speaker system the familiar "pilots, man your planes" blared over the room.  As they left someone wrote in simple letters after Captain Moses' name, KIA –Killed in action"
Extract from UP Article by Robert Miller, Provided by his Twin Brother Herbert Moses '43 of Sumter
"Captain Vivian M. Moses became the first combat fatality for the Death Rattlers in the Korean War.  His Corsair was shot down by small-arms fire.  Ironically, Captain Moses had been shot down the day before and was picked up by a Marine helicopter and retuned to the Badoeng Strait that morning." Extract from the WEB.
Letter from his brother:
"Vivian and I were identical twins.  We liked to do everything together.  We grew up in Sumter, finishing high school there in 1940.  Entered Clemson and being in the Army Reserves were called into active duty in 1943 (end of our junior year). We both transferred to the Marine Corps as 2nd Lt's.  After communications training we were stationed at several Marine Air Bases training pilots in radio and radar use.
We requested flight training when the war ended in August '45.  We went through the Navy Flight Training for about 18 months and ended up flying Corsairs. In December of '47, I did not want to continue in the service as a career; resigned and went to Clemson to get my degree. Viv, of course, decided to stay in the Marine Corps.
In Sumter we had enjoyed hunting, played basketball and tennis and at Clemson we were both on the freshman basketball team (coached by Banks McFadden, All American). At Clemson we roomed together our freshman year but were separated our sophomore and junior years. I was a First Sgt. my junior year and Viv was a Supply Sgt. in the cadet ROTC (you can check the 1943 TAPS for details)."
Sincerely,
Herb Moses
Additional Information
Aboard a carrier off Korea, August 14, 1950: "The war aboard this small carrier stopped for a few minutes today to honor Captain Vivian M. Moses of Sumter, South Carolina, the first Marine aviator killed in the Korean War (and the first Clemson man lost).  A Marine guard of honor fired a volley into the morning air while the ship's crew stood at attention and short Jewish services were held for the 27-year-old Captain who was shot down on August 11.  Captain Moses, nephew of retired Marine Major General E. P. Moses of San Diego, was killed less than twenty-four hours after he had been shot down and rescued by a Marine helicopter off the Korean coast.  He was aboard the carrier less than an hour when he took off on his last mission.  Lieutenant Doyle H. Cole of Fort Smith, Arkansas, Captain Moses' wingman, who was also downed, said ground fire apparently knocked out the Corsair's oil line.  Falling oil pressure had caused Moses to ditch his plane the day before.
Related Images Click to Enlarge
Extra Documents
Vignette in The Echo written by Kelly Durham – Carrier Pilot