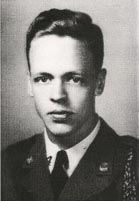 1943

Agricultural Economics, B.S.

Color Corporal, Master Sergeant, Cadet Colonel, High Honors 1,2,3; Blue Key, Tiger Brotherhood, Scabbard and Blade, Phi Kappa Phi, YMCA Council, Pershing Rifles, Canterbury Club, President Sophomore Class, VP Junior Class, VP Senior Class and Freshman, Sophomore, Junior, and Senior Platoons.

Florence, South Carolina

Army, Second Lieutenant

358th Infantry Regiment, 90th Infantry Division

Purple Heart with Oak Leaf Cluster

Nov 22, 1921

Feb 2, 1945

Killed in Action in Germany.

Luxembourg American Cemetery and Memorial, Plot H, Row 15, Grave 45

SW
Additional Information
Lt. Walker W. Gardiner, Ag. Ec. '43, of Florence SC, was killed in action in Germany on February 2, soon after he had returned to duty on December 29, after recovering from a wound he had received in battle on July 7, 1944.
During his enrollment at Clemson he was very active in student life.  He held the ranks of private, color corporal, master sergeant, and cadet colonel throughout his four years of college life.  He was also a member of Blue Key, Tiger Brotherhood, Scabbard and Blade, Phi Kappa Phi, Alpha Zeta, Phi Beta Sigma, Pershing Rifles, Sigma Phi, Sears Scholarship Club, Pee-Deeans, Canterbury Club, YMCA Cabinet and the Handbook Committee.
He was vice-president of the YMCA, vice-president junior class, president sophomore class, vice president senior class, commencement marshall, best drilled Freshman and Corporal in battalion.  He received the Alpha Zeta Award in 1940, Sears Scholarship Awards and he is listed in "Who's Who in American Universities and Colleges."  He made High Honors in his Freshman, Sophomore, and Junior years.
Extracted from The Tiger the Clemson student newspaper.
On January 5th, 90th ID was transferred to Luxembourg to take part in the reduction of the Ardennes salient.  January 9th, it attacked between Bavigne and Nothum and progressed towards Niederwampach, but faced an armoured counter-attack.  It battled to secure accesses to the Our, which marked the German border.
The crossing of Our River took place on January 29th, 1945, around Oberhausen.  Once on opposite bank, Tough Hombres tackled Habscheid, then on February 6th, they launched a new attack on the Siegfried line.  After four days of engagements, the fortifications had been broken, and 90th ID captured Prüm January 12th.  German resistance weakened, while the progression of 90th ID accelerated.  In spite of its failure to seize a bridge at Waxweiler, the division cleaned the banks of Prüm.  On February 24th, it was placed in reserve.
Identification Number: 0-537400
National Archives & Records Administration file:
https://www.wwiimemorial.com/registry/wardept/pframe.asp?HonoreeID=1276344&popcount=1&tcount=2
Overseas Americans Cemetery file:
https://www.wwiimemorial.com/registry/cemetery/search/pframe.asp?HonoreeID=733449&popcount=2&tcount=2
Related Images Click to Enlarge