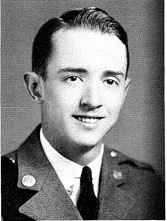 1941

Vocational Agricultural Education

Cadet Second Lieutenant, Band Company; Calhoun Forensic Society; Tri-County Club; F. F. A.; Marksman, ROTC Camp McClellan, AL.

Orangeburg, SC

Army, Captain, Company Commander   

H Company, 307th Infantry Regiment, 77th Division

Bronze Star; Purple Heart; Combat Infantry Badge; Four Combat Battle Ribbons for Guam, Leyte and Ie Shima Island

Dec 26, 1918

Apr 20, 1945

KIA - Ie Shima.  Bennett and classmate Marion Jenkins were killed by the same mortar shell.

Sunnyside Cemetery, Orangeburg, SC

SE
Personal Remembrances
I was only a few yards from them when they were killed.  We were in our mortar  trench that night when it all happened, worst night of my life.  We were so close to the front lines we had our mortars pointing almost straight up.  We had to keep going back to the beach for more ammunition.  I think it was the same day Ernie Pyle was killed by a sniper.  When it was all over we had 46 men left in our company.  Both officers were very well liked by the whole platoon.
I'm not much of a letter writer.  If you have any questions to ask me let me know.
A. J. Tiffany
Vacaville, ca. 95688
bigalnev@sbcglobal.net
The next combat assignment was Okinawa.  In late March (26-29), the division made 15 landings, securing Kerama Retto and Keise Shima for the assault on Okinawa. Riding at sea, 1–15 April 1945, it suffered casualties from enemy suicide attacks, and prepared for the assault landing on Ie Shima.  On 16 April 1945, the 77th landed on Ie Shima, captured the airfield, and engaged in a bitter fight for "Government House Hill" and "Bloody Ridge."  It was in this operation that Ernie Pyle was killed.  On 25 April, it left Ie Shima for Okinawa, relieving the 96th Division, 28 April 1945.
Extract from: https://en.wikipedia.org/wiki/77th_Sustainment_Brigade_(United_States)#World_War_II
Additional Information
Related Images Click to Enlarge
Extra Documents
Shared History – Vignette in The Echo written by Kelly Durham