Walter Lawson Jenkins, Jr.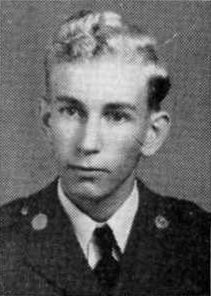 1945

Mechanical Engineering

Rock Hill, South Carolina

Army, Private First Class

309th Infantry Regiment, 78th Infantry Division

Purple Heart

Aug 29, 1924

Dec 13, 1944

Died of wounds from battle in Germany.

Laurelwood Cemetery, Rock Hill, SC

NE
Additional Information
Activities of the 78th Infantry Division at the time of Pfc. Jenkins death
After landing in France, the division moved to Tongeren, Belgium on 27 November 1944, and to Rotgen, Germany on 7 December 1944, to prepare for combat.  The 311th Infantry Regiment was attached to the 8th Armored Division in the Hurtgen Forest, 10 December.  The 309th and 310th Infantry Regiments relieved elements of the 1st Division in the line in the vicinity of Entenpfuhl, 1–12 December.  On the 13th these regiments smashed into Simmerath, Witzerath, and Bickerath and were fighting for Kesternich when Gerd von Rundstedt launched his counteroffensive in the Monschau area, on 18 December.
Source: https://en.wikipedia.org/wiki/78th_Infantry_Division_(United_States)
Completed two years at Clemson College.
Related Images Click to Enlarge
Extra Documents
Heavy Cost – Vignette written by Kelly Durham for The Echo