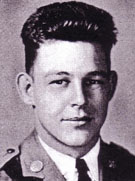 1935

Chemistry

Cadet Corporal, Sergeant, Captain; Athanor; Beta Sigma Chi; Blue Key; Central Dance Association; Scabbard and Blade; Boxing 3,4; Captain ROTC Boxing Team

Summerville, South Carolina

Wife: Jane Platt and three children

Marine Corps, Colonel

1st Marine Division

Purple Heart, Silver Star, Legion of Merit, Combat Action Ribbon, Prisoner of War Medal, Korean Service Medal, United Nations Service Medal, National Defense Service Medal, Korean War Service Medal.

May 26, 1914

Sep 27, 1951

Died of Wounds - He was seriously wounded while fighting the enemy in Korea and died of those wounds on September 27, 1951.

Buried at Section 3, Site 1319-B, Arlington National Cemetery.

NE
Additional Information
Citation: Silver Star:
Awarded for actions during the World War II The President of the United States of America takes pleasure in presenting the Silver Star to Captain Wesley M. Platt (MCSN: 0-5130), United States Marine Corps, for conspicuous gallantry and intrepidity in action against enemy Japanese forces while attached to the Marine Detachment, First Defense Battalion as Commanding Officer of the Wilkes Island strong point in the Wake Island group on 23 December 1941.  When hostile forces affected a landing on his stronghold during the night of 22-23 December, one of Captain Platt's units was surrounded by the enemy.  At daylight he personally led a section of machine guns against a numerically superior force attacking in the direction of the surrounded unit.  Stealthily moving through dense underbrush he directed his men in attacks against several strongly defended hostile positions reducing each one in turn until he joined forces with his other unit.  Captain Platt then reorganized his troops and courageously led them in further attacks against the enemy in the face of intense machine gun, rifle and grenade fire.  Under cover of fire from his machine guns he guided his small force to assault each position and overcame the Japanese in fierce hand to hand combat.  By his heroism, tactical skill and aggressive fighting spirit, Captain Platt contributed greatly to annihilating or capturing all the enemy who had landed on the island and his conduct throughout was in keeping with the highest traditions of the United States Naval Service.
Commanding General, Fleet Marine Force Pacific: Serial 22907
General Orders:
SYNOPSIS: Wesley M. Platt (MCSN: 0-5130), United States Marine Corps, was awarded the Legion of Merit for exceptionally meritorious conduct in the performance of outstanding services to the Government of the United States in Korea during the period from 31 May through 26 September 1951.
Prisoner of War Medal: Captain Wesley M. Platt (MCSN: 0-5130), United States Marine Corps, was captured by the Japanese after the fall of Wake Island on 23 December 1941, and was held as a Prisoner of War until returned to U.S. Military control at the end of the war.  General Orders: NARA Database: Records of World War II Prisoners of War, created, 1942 – 1947.  Action Date: December 23, 1941 – September 1945
Washington, October 4, 1951 – The Marine Corps today announced the battle death of Colonel Wesley M. Platt, the highest ranking Marine to lose his life thus far in Korea.  Colonel Platt died September 28, 1951, the day after he was wounded by shrapnel while serving as a staff officer of the First Marine Division.  His widow and three children live in Falls Church, Virginia.  Colonel Platt was a member of Headquarters Company, Headquarters Battalion, 1st Marine Division.  He was seriously wounded while fighting the enemy in Korea and died of those wounds.
Clemson Graduate Killed in Korea
Formerly of Summerville and a graduate of Clemson, was the highest ranking Marine officer to be killed in the Korean War.  He died on September 27, 1951 of battle wounds, was on the staff of the commanding general of the First Marine Division.  He received a bachelor of science in degree in chemistry from Clemson in 1935, and accepted an appointment as a second lieutenant in the U.S. Marine Corps.  He was stationed at Wake Island when it was overrun by Japs in December 1941, he was interned a a prisoner of war and was eventually transferred to Japan to be repatriated in 1945.  Due to his conspicuous gallantry in action against the Japanese at Wake Island, he was awarded the Silver Star medal. 
Extract:  The Tiger 10/11/51
Related Images Click to Enlarge
Extra Documents
From Wake to Korea – Vignette written by Kelly Durham for The Echo