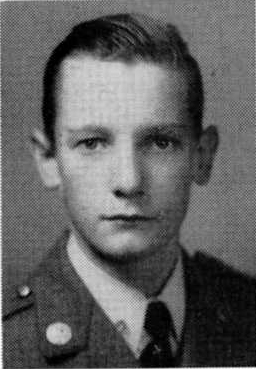 1945

Civil Engineering

Attended Clemson as a Freshman and Sophomore. Member of A.S.C.E.

Columbia, South Carolina

Army Air Force, Flight Officer

14th Air Force

Purple Heart, Distinguished Flying Cross, Air Medal

Jun 2, 1925

Jul 27, 1945

Killed In Action in the China-Burma-India area of Operations.

Saint Peter's Cemetery, Columbia, SC

SE
Personal Remembrances
In the 1930s I met an older boy, Wilfred C. Wells, whose father along with mine was active in The American Legion.  Although I'm sure he would rather have not been bothered with a little "squirt" who was about six years younger than he, Wilfred became my idol -- and generally he was good enough to put up with me.
Wilfred and I were members of the Sons of the Legion (SAL), and when the Squadron formed a Drum and Bugle Corps, we became members of that group.  I can remember boarding the bus to go to Florence in 1939 for the State Convention, where our Corps marched in the parade, and my being overjoyed that the seat next to Wilfred was vacant.  Since I was still over four months away from my ninth birthday, I expect I pestered him all the way from Columbia to Florence and back.  But, I just thought no one could be the equal of Wilfred.  During the next two years we saw each other frequently at SAL events, and he remained my idol.
I remember seeing him only once after he entered Clemson in 1941.  In early 1942, my family moved to the neighborhood in which the Wells lived, and when he was home for a weekend, I remember seeing him dressed in his Cadet uniform riding his bicycle as I rode mine in the opposite direction.  Since we were on a major street with traffic in between, I'm not sure I even tried to speak -- but I almost surely waved at him.  And, I do remember how sad I was when I learned of his being KIA near the end of the war.
Col (Ret) W. Richard Mattox, '51
Flight Officer Wilfred Wells, missing in the Chinese-India theater of war since July 27, 1945 was awarded the Air Medal and the Distinguished Flying Cross for demanding flying service and courage at a ceremony attended by the family on March 30th.
He was born and reared in the Shandon section of Columbia and graduated from Dreher high school in June 1941.  He attended Clemson College from September 1941 to June 1943. He entered the Army Air Force in August of 1943 and was trained as a navigator.  He was assigned to the China- Burma-India area where he served until July 27 when his plane became missing.
Extracts from the Journal- Index Greenwood
Additional Information
Related Images Click to Enlarge
Extra Documents
Vignette in The Echo written by Kelly Durham – "The Hump"