William Alexander Johnson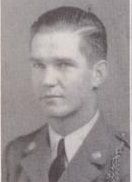 1943

Mechanical Engineering

Hamlet, North Carolina

Wife, Martha Geach Johnson; parents - William Douglas and Willie McCoy Johnson

Army Air Force, Second Lieutenant

Jul 31, 1921

Nov 15, 1942

Died non-battle in a bomber explosion near Columbia, South Carolina. The entire crew of seven were killed.

Mary Love Cemetery, Hamlet, NC

SE
Additional Information
ID 0-791698
Accident # 43-11-15-4 Date: 15 November 1942 Aircraft Type/Model: B-26B Aircraft # 41-17702 Group: 323rd Bomb Group Squadron: 454th Bombardment Squadron   List of Crew: Huntley Eugene L.    2nd Lt.     Fatal Johnson William A.   2nd Lt.     Fatal Frissell Charles M.    2nd Lt.     Fatal Hope, Harold W.       2nd Lt.     Fatal Miller Charles J.         Cpl.       Fatal Evans Donald W.      S/Sgt.      Fatal Maculakas Vincent J.  Pvt.        Fatal   On November 15th, 1942, the aircraft crashed in an open field.  It was flying too low for indeterminable reasons.  It is possible that engine trouble may have contributed to the loss of altitude.  One wing was too low and touched the ground causing the plane almost crosswise to its line of flight.  A fire followed the crash.  Responsibility cannot be determined with the evidence available.
Related Images Click to Enlarge