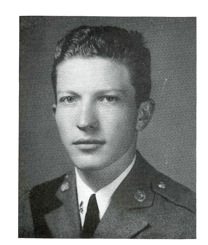 1940

Chemistry

Cadet Corporal, Sergeant, First Lieutenant; Alpha Chi Sigma; Tri-County Club; Glee Club; ROTC Camp Fort McClellan, AL

Orangeburg, SC

Wife: Colleen Sharpe

Army, Captain

8th Infantry Division

Purple Heart

Oct 4, 1918

Dec 17, 1944

Killed in Action in France

Sunnyside Cemetery, Orangeburg, SC

NE
Additional Information
Activities of the 8th Infantry Division around the time of Captain Sharpe's death.
During World War II, the 8th Infantry Division was sent to Europe to fight against the Axis. After training in Ireland the 8th Infantry Division landed on Omaha Beach, Normandy, 4 July 1944, and entered combat on 7 July. Shortly after its arrival, the division captured the French cities of Rennes[3] and Brest.[4] Fighting through the hedgerows, it crossed the Ay River, 26 July, pushed through Rennes, 8 August, and attacked Brest in September.
Following these actions, the 8th turned eastward toward the German border, taking part in the heavy fighting in the Hürtgen Forest in November 1944. The Crozon Peninsula was cleared on 19 September, and the division drove across France to 
Luxembourg
, moved to the 
Hurtgen Forest
, 20 November, cleared Hurtgen on the 28th and Brandenberg, 3 December, and pushed on to the 
Roer
.
[4]
 That river was crossed on 23 February 1945, Duren taken on the 25th and the Erft Canal crossed on the 28th.
Copied from: https://en.wikipedia.org/wiki/8th_Infantry_Division_(United_States)
Related Images Click to Enlarge
Extra Documents
With the 13th – Vignette written by Kelly Durham for The Echo