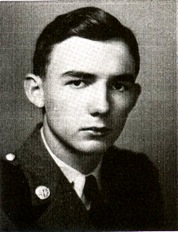 1943

Pre Med

Six Mile, South Carolina

Wife - Wilma Owens Dillard, Son - William C. Dillard (Billy)

Army, Lieutenant

Company B, 36th Armored Infantry Regiment, Third Armored Division

Bronze Star, Purple Heart and Infantryman's Combat Badge

Jan 22, 1923

Dec 13, 1944

KIA - Germany

Hillcrest Memorial Park, Pickens, SC

SW
Personal Remembrances
My father, Lt. William C. Dillard of Six Mile, graduated from Clemson on May 24, 1943 at age 20.  In August of 1944 he went overseas with Company B of the 36th Armored Infantry Regiment of the Third Armored "Spearhead" Division of the First Army.  The Spearhead Division was the first American unit to crack the Siegfried Line and the first to capture a German town.  He was wounded in Germany on December 12, 1944 and died the next day, December 13, 1944 in a field hospital at age 21.  The Bronze Star citation said, '"After his company had crossed a flat, open terrain for approximately 1000 yards, it came under severe artillery, mortar and small arms fire, and was restricted further in its movements by an artillery smoke screen.  With total disregard for his own personal safety, in the face of heavy enemy fire, Lt. Dillard continuously exposed himself and made his way from squad to squad, personally directing his men to covered positions and giving them encouragement which minimized the amount of confusion."
William C. Dillard
Class of 1965
Additional Information
First Lt. William C. (Bill) Dillard, Pre-Med. '43, of Six Mile, and husband of Mrs. Wilma Owens Dillard, died in France December 13, as a result of wounds he received in action in Germany, December 12.
He was the only son of Mr. and Mrs. T. L. Dillard of Six Mile, and is also survived by one son, William Clayton (Billy) Dillard, who was born at the Six Mile Hospital on January 18, 1945, and one sister, Miss Eloise Dillard of Furman University.  Lieutenant Dillard was a graduate of the class of '43 of Clemson College and received his commission at Fort Benning, GA, December 14, 1943.
He had been in service 16 months and overseas almost 4 months.  He was awarded the Infantryman's Combat Badge and on October 23 was promoted to his present rank on the battlefield in Germany.  Mrs. Dillard and her young son will make their home with Lieutenant Dillard's parents in Six Mile.
Extract from The Tiger, the Clemson student newspaper.
Related Images Click to Enlarge
Extra Documents
Vignette in The Echo written by Kelly Durham – Winter War