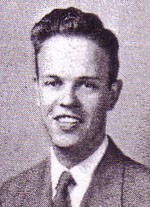 1952

Marion County, South Carolina

Army, Private

772nd Military Police Battalion

Purple Heart, Korean Service Medal, United Nations Service Medal, National Defense Service Medal, Korean Presidential Unit Citation, Republic of Korea War Service Medal

Jul 4, 1927

Jan 30, 1951

Killed in Action - Private Fowler was Killed in Action while fighting the enemy in Korea.

Cedardale Cemetery, Marion County, SC

NW
Additional Information
Private Fowler was a member of the 772nd Military Police Battalion, U.S. Army.  The Police Battalion in South Korea mainly provided rail security for northbound supply trians and southbound hospital trains.
Related Images Click to Enlarge