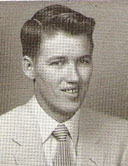 1955

Textile Manufacturing

Private; Corporal; Sergeant; Second Lieutenant, Athletic Officer; Honors 2, 3; Phi Psi 3, 4; Best Drilled Company 1; Best Drilled Platoon 1; ROTC Summer Camp, Randolph Air Force Base, Texas

Chester,SC

Wife, Laura Jean Rash Worthy (deceased 25 January 2012); daughter, Kristina Jean (Kristy) Worthy; son, Jeffery (deceased as infant); granddaughters, Kierston Worthy and Leah Nix

Air Force, Major

42nd Tactical Electronic Warfare Squadron, 355th Tactical Fighter Wing, 13th Air Force, Pacific Air Forces, Takhli Royal Thai Air Force Base, Thailand

Air Medal, Air Force Commendation Medal with One Oak Leaf Cluster, Air Force Outstanding Unit Award with One Oak Leaf Cluster, National Defense Service Medal, Vietnam Service Medal, Air Force Longevity Service Award with Two Oak Leaf Clusters, Small Arms Expert Marksmanship Award

Jun 6, 1933

Jul 16, 1970

Major Worthy was enroute to Takhli RTAFB when he was struck by a hit and run driver near the US Military Officers Billet in Bangkok, Thailand on 10 July 1970. He was taken to the 5th US Army Field Hospital in Bangkok where he succumbed to his injuries on 16 July 1970.

Florence National Cemetery, Florence, SC, Section E, Site 407

NE
Personal Remembrances
The following poem was written by Major Worthy's sister, Mrs Marion R. (Rachel) Steen of Cayce, SC and brother James Worthy of Greenville, SC just after Major Worthy's death.
AND THEN THERE WERE TWO
  We rode to the movies, three kids on a bike "Triple Heading" we called it, the world was so bright   Bill was the oldest, with dimples so deep I, in the middle with fat little cheeks The youngest boy, Jimmy, was always a tease He still loves a good joke and can tell them with ease   Bill was the bright one, straight A's he did make All his teachers sure loved him, their memories didn't fade "Are you Bill's sister?" was their annual chant From teachers who'd taught him "Yes, but his shoes fill I can't"   Boy Scouts, Demolay, then R.O.T.C. Tops in them all was our Billy   He didn't like girls until Laura he met He gave her his heart and she still has it yet Then God sent them Kristi, what a beautiful gift A big smile from her sure gave Bill a lift   He loved life and lived it with fun in each minute If he had a dollar, on fun he would spend it   Jet flying he loved, it was really his thing Just give him a plane and he felt like a king   In this modern age (Viet Nam) of so much dissent He sure loved his country and to protect it he went   Then in far offBangkokone rainy night A tragic accident took his life   But his smile lives on in the hearts of us all And in our eyes, he's still 10 feet tall.  
 His loving sister…July 1970
Rememberance from COL Martin Alewine:
I am so pleased that the Clemson Corps Board of Directors voted unanimously in September (2012) to include Bill Worthy, Clemson Class of 1955, on the Scroll of Honor, an honor I think is really deserved for one who certainly lived up to the proud traditions of Clemson graduates who served in the United States military.
I was a year ahead of Bill (i.e. Class of 1954) and was in the platoon he was platoon sergeant of my senior year.  I really got to know Bill when I was a "third semester junior", meaning I lacked one credit being a full-fledged senior my 1st semester. So until second semester, I was just one of the guys.  Bill took his duties in the Cadet Corps seriously and was always sharply dressed in uniform, consistent in his leadership, and insisted that all cadets – including 3rd semester juniors – shape up and do the platoon and company proud.
When I turned senior and was then assistant platoon leader (2nd Lt), he was totally respectful but still a friend.  I am certain his character and demeanor carried over to his Air Force service, and was consistent with what I saw one night in the Officer's Club at Wright-Patterson Air Force Base, Ohio, when I saw him for the first time since graduation from Clemson.  Same Bill, all smiles, proud of his job (I believe he was a B-52 or KC-135 navigator at that time), very complimentary of a ribbon I was wearing on my uniform, and seemingly happy with what he was doing.  This was in 1964, and several years later I was shocked and saddened when I learned of his death by seeing his name in that column of the Clemson Alumni Magazine.
Knowing he was an Air Force flyer at the height of the Vietnam War caused me to begin asking questions about the circumstances of his death when I attended the dedication of the Scroll of Honor in 2010.  Thanks to the many months of digging by Bill's friends, including his roommate from Clemson, members of the Board of the Clemson Corps (especially USAF Brig Gen Charles King) and a little luck, those circumstances were finally learned in detail, and now Bill joins the long list of Clemson grads and students who paid the ultimate price in service to our country.
I am proud to say I knew Bill, even if for just a small portion of his and my time at Clemson.  He is one I have always remembered and who will always hold a special place of respect and honor in my heart.  Rest in Peace Bill as a proud member of the Scroll of Honor!
Martin A. Alewine, Jr., Col, USAF Retired Travelers Rest, SC October 17, 2012    
An Extract from Military Appreciation Day – Basketball Game
Littlejohn Coliseum, Clemson vs Virginia, 12:00 PM, January 12, 2013, "Half Time"
TODAY WE WANT TO HONOR THE MOST RECENT ALUMNUS TO BE INDUCTED INTO THE CLEMSON UNIVERSITY SCROLL OF HONOR, MAJOR WILLIAM EDWARD WORTHY, UNITED STATES AIR FORCE, CLASS OF 1955.  WITH US TODAY TO HELP RECOGNIZE MAJOR WORTHY'S SACRIFICE TO OUR COUNTRY AND OUR FREEDOM ARE MEMBERS OF HIS IMMEDIATE FAMILY. MOVING ONTO THE COURT TODAY ARE MAJOR WORTHY'S SISTER MRS. RACHEL STEEN OF CAYCE, SOUTH CAROLINA AND MAJOR WORTHY'S BROTHER JAMES WORTHY OF GREENVILLE, SC. ACCOMPANING MRS. STEEN IS LIFE LONG FRIEND OF THE FAMILY MR. LEO REDMOND. THE FAMILY IS BEING ESCORTED BY COLONEL EDWARD DE IULIO, CHAIRMAN, CLEMSON CORPS BOARD OF DIRECTORS AND COLONEL EDDY MOREHEAD, CHAIRMAN OF THE  SCROLL OF HONOR COMMITTEE. PLEASE JOIN US WITH A WARM APPLAUSE WELCOMING AND SHOW OF APPRECIATION FOR THE WORTHY FAMILY'S LOSS AND THE SACRIFICE THEY THEMSELVES HAVE MADE FOR OUR COUNTRY.
MAJOR WORTHY WAS THE SON OF THE LATE MR. WADE AND NELLY WORTHY OF CHESTER, SOUTH CAROLINA. WE ARE SADDEND BY THE NEWS THAT MRS. WILLIAM EDWARD WORTHY PASSED AWAY IN JANUARY OF 2012 JUST BEFORE HER HUSBAND WAS NOMINATED FOR INDUCTION INTO THE SCROLL OF HONOR. UNABLE TO ATTEND TODAYS' EVENT BUT A SIGNIFICANT PART OF MAJOR WORTHY'S LIFE ARE HIS DAUGHTER KRISTINA AND GRANDDAUGHTERS KRIERSTEN WORTHY AND LEA NIX OF WINTER PARK, FLORIDA.
MAJOR WORTHY WAS BORN ON JUNE 6, 1933 GROWING UP IN CHESTER, SOUTH CAROLINA.  HE GRADUATED FROM CHESTER HIGH SCOOL IN 1951 AND BEGAN HIS TIME AT CLEMSON UNIVERSITY AS A TEXTILE MANUFACTORING MAJOR IN THE FALL SESSION OF 1951.  WHILE AT CLEMSON THEN CADET WORTHY SERVED AS THE CORPS ATHLETIC OFFICER, RECEIVED ACADEMIC HONORS HIS SOPHMORE AND JUNIOR YEARS AND WAS A MEMBER OF THE PHI KAPPA PSI FATERNITY HIS JUNIOR AND SENIOR YEARS.  HE GRADUATED ON 5 JUNE AS PART OF THE CLASS OF 1955 RECEIVING A BACHELOR OF SCIENCE DEGREE IN TEXTILE MANUFCTORING AND A COMMISION AS A SECOND LIEUTENANT IN THE UNITED STATES AIR FORCE.  THEN SECOND LIEUTENANT WORTHY IMMEDIAETLY ENTERED THE AIR FORCE AND TRAINED AS A B-52 STRATOFORTRESS BOMBER NAVIGATOR AND LATER AN EB-66 DESTROYER NAVIGATOR.  HIS SPECIAL TRAINING AND AIRCRAFT SPECIALTY ENVOLVED THE ESCORTING OF FIGHTER-BOMBERS INTO A THREAT AREA PROVIDING RADAR JAMMING OF ENEMY RADAR WEAPON SYSTEMS. IN ADDITION TO HIS CLEMSON EDUCATION MAJOR WORTHY EARNED A MASTERS DEGREE FROM THE UNIVERSITY OF OKLAHOMA IN BUSINESS ADMINISTRATION IN 1965.
ON 10 JULY 1970 WHILE ENROUTE TO HIS NEXT DUTY STATION WITH THE   42ndTACTICAL ELECTRONIC WARFARE SQUADRON, 355th TACTICAL FIGHTER WING, 13th AIR FORCE, PACIFIC AIR FORCES, STATIONED AT THE TAKHI ROYAL THAI AIR FORCE BASE, THAILAND MAJOR WORTHY WAS STRUCK BY A VEHILCE OUTSIDE HIS TRANSIT QUARTERS IN BANGKOK, THAILAND SUSTAINING CRITICAL HEAD INJURIES THAT LED TO HIS DEATH ON 16 JUNE 1970. ON JULY 23, 1970 MAJOR WILLIAM EDWARD WORTHY RETURNED TO HIS BIRTH PLACE FOR THE LAST TIME TO BE RECEIVED BY HIS WIFE AND THREE YEAR OLD DAUGHTER.  MAJOR WILLIAM EDWARD WORTHY IS BURIED AT THE FLORENCE NATIONAL CEMETERY IN FLORENCE, SOUTH CAROLINA FOREVER TO BE REMEMBERED BY HIS FAMILY AND CLEMSON COMMUNITY.
LADIES AND GENTLEMEN, PLEASE STAND AS WE HONOR THE SACRIFICES OF MAJOR WORTHY AND THE OTHER KNOWN 481 ALUMNI RECOGNIZED ON THE SCROLL OF HONOR BY THE PLAYING OF TAPS.
Obituary was published by the Union (SC) Daily Times in late July 1970 and was provided by Major Worthy's brother, Jim Worthy, of Greenville, SC.
Additional Information
Citation by direction of the President, the Air Medal for meritorious achievement while participating in aerial flight is awarded to Major William E. Worthy, 50th Military Airlift Squadron, 61st Military Airlift Wing, 22nd Air Force, Military Airlift Command.  During the period June 25, 1967 to November 3, 1969, outstanding airmanship and courage were exhibited in the successful accomplishment of important missions under extremely hazardous conditions.  The highly professional efforts of Major Worthy contributed materially to the mission of the United States Air Force in Southeast Asia.
Citation to Accompany the Award of the Air Force Commendation Medal (First Oak Leaf Cluster) to William E. Worthy.  Major William E. Worthy distinguished himself by meritorious service as Navigator, 50th Military Airlift Squadron with additional duty as Officer in Charge, Forward Supply Location, Chief of War Readiness Materiel Section and Assistant Chief of Supply, 61st Military Airlift Wing, from1 February 1967 to 21 December 1969.  During this period, Major Worthy provided superior leadership for one of the most diversified and complex logistic support operations in the Air Force.  His highly professional management abilities were reflected by the superior support rendered during the accelerated operational requirements of the Southeast Asian conflict as a crew member and by providing responsive logistic support to the Military Airlift Command aircraft by airlifting urgently needed supplies to our combat forces.  The distinctive accomplishments of Major Worthy reflect credit upon himself and the United States Air Force.
Major Worthy entered the Air Force immediately after graduating from Clemson and during his career was assigned to Harlingen AFB, TX (navigator training); Mather AFB, CA (navigator training); Altus AFB, OK (B-52 navigator); Wright-Patterson AFB, OH (B-52 navigator); University of Oklahoma, Norman, OK (MBA); Hickam AFB, HI (C-124 navigator); Shaw AFB, SC (transition training to EB-66); and was enroute to Takhli RTAFB, Thailand at the time of his death. Major Worthy was a navigator being assigned to the 42
nd
 Tactical Electronic Warfare Squadron at Takhli RTAFB, Thailand to fly EB-66 radar jamming aircraft. EB-66 aircraft escorted fighter-bombers from bases in Thailand and South Vietnam on bombing missions over North Vietnam. He departed from Hickam AFB, Hawaii, where he had previously been stationed, on Sunday evening, 28 June 1970, enroute to Thailand.  His itinerary took him to Andersen AFB, Guam and then to Clark AB, the Philippines, where he attended the Pacific Air Forces Jungle Survival School. His last letter to his brother, Jimmy, was postmarked 30 Jun 1970 at Andersen AFB, Guam. Upon completion of the survival school at Clark AB, Major Worthy traveled to Bangkok, Thailand and was quartered in the US military officers quarters, the Chao Phya Hotel, while awaiting military transportation up-country to Takhli RTAFB.  He was scheduled to proceed to Takhli on Saturday, 11 July 1970.  Major Worthy was critically injured with multiple internal and external injuries of the head on 10 July 1970 when he was struck by a hit and run driver as he was attempting to cross the street in front of the Chao Phya Hotel while walking to a restaurant for dinner.  His family was told Major Worthy was accompanied by another service member and was wearing his uniform when he was hit.  He was taken to the 5
th
 US Army Field Hospital inBangkok with severe head injuries, never recovered consciousness, and died on16 July 1970.  Major Worthy's duty status at the time of the accident would have been classified as "PCS Enroute".
Related Images Click to Enlarge