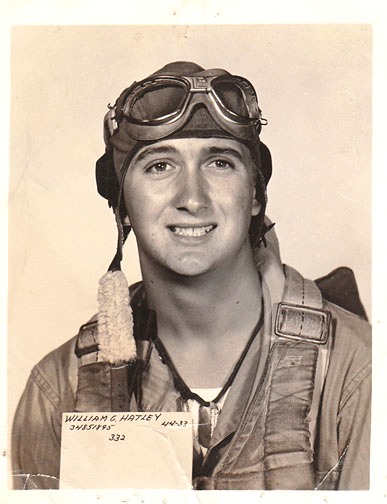 1947

Engineering

Albemarle, NC

Army Air Force, Corporal

400th Bomb Squadron, 90th Bomb Group

Purple Heart, Air Medal

Jul 9, 1925

Apr 8, 1945

Killed in Action when the bomber he was in exploded.

Memorialized at Manila American Cemetery and Memorial; There is also a memorial marker for him at Salem United Methodist Church Cemetery, Albemarle, NC.

SE
Personal Remembrances
Well, I actually made unexpected progress today, and found that Gene Hatley was killed when his B-24, #42-109983, exploded shortly after takeoff on 4/8/45.  This is documented in Wiley Woods' history of the 90th.  This was Lt. Honsal's plane.
Lauren
A Great Niece
Wow - I last posted to the website some years ago, so to get your message after all that time was a nice surprise.  Some time ago I had been looking for information on Gene to give to my grandmother, his sister.  To my surprise I was able to get some nice photographs, from the government, of the memorial in the Philippines where his name is listed on the tablets of the missing.  For her, since her family never had any real closure back then, it was a very emotional moment to see the photos of the memorial, and to know that his name is listed there in remembrance.  He was only 19 when he was killed - she was 17 - and he was the darling of the family to hear her tell it.  As I understand it he volunteered for service.  I was so humbled to be able to find some information for her all these years later, and have no doubt that his loss indelibly shaped the lives of those he left behind.  From the information I was able to find, he was not a regular member of the crew of his plane, "The Ho Hum", when he was killed.  He was only recently added to the crew and I believe he was a tail gunner.  The plane exploded after a faulty fuel transfer shortly after takeoff from McGuire Drome, Mindoro Island, Philippines, on a bombing run to Formosa and I believe one or two men were rescued from the ocean but the remains of the rest were never recovered.
I think I have a picture of him somewhere, though I am not sure if it is a hard or a digital copy. I'll look around and get back to you, and I am sure my grandmother would be delighted to see him remembered by what would have been his alma mater.  Thanks so much for your message, and for the heads-up on the memorial site through Clemson.
Best - Lauren Coggins
Additional Information
This is government information received by a family.
Information from missing aircraft crew report number 16327, 10 Apr 46, HQ, Army Air Force, Washington; Location, McGuire air strip, 90th Bomb Group, 400th Bomb Squadron.  Intended destination: Shinchin, A/D Formosso Date: 8 April 45.  Crashed near Penden Island, apparently exploded in transit.
Extract of 90th Group Record, Data Unknown
The 8th of April Second Lieutenants William P. Boceal, James C. Kotsakos, Charles F. Sinning; Technical Sergeants Alfred R. Foterson, Walter J. Schneider; Staff Sargent Adrian V. Tapscott and Corporal Wiliam G. Hatley were killed in an aircraft accident shortly after take off.  Duty status; killed in action.
Related Images Click to Enlarge
Extra Documents
Jolly Roger – Vignette written by Kelly Durham for The Echo