William Henry Frazier, Jr.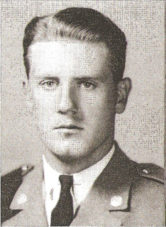 1939

Electrical Engineering

Palmetto Literary Society, Tiger Band, Concert Band, Tiger Staff, Radio Club, Mu Beta Psi

Dothan, Alabama

Wife: Jane Isbell; One son William III

Army, Major

Executive Officer, 3rd Battalion. 9th Infantry Regiment, 2nd Infantry Division

Purple Heart with Oak Leaf Cluster, Combat Infantryman's Badge, Korean Service Medal, United Nations Service Medal, National Defense Service Medal, Korean Presidential Unit Citation, Republic of Korea War Service Medal

Aug 18, 1917

Nov 13, 1950

Killed in Action near Pugwan, Korea.  He was seriously wounded by the enemy in South Korea on September 28, 1950 and returned to duty October 17, 1950.  He was Killed in Action while fighting the enemy in North Korea on November 13, 1950.

Major Frazier is buried in Arlington National Cemetery in Arlington, Virginia; Section 6, Site 9586-A

SE
Personal Remembrances
Bill Frazier was born in August 1917 in Dothan, AL, where he attended the local schools.  In 1935 he entered Clemson College with the Class of 1939.  At Clemson he played in the band, was a member of Mu Beta Psi, the honorary music fraternity, and in his senior year was Associate Business Manager of The Tiger.  He graduated in 1939 with a BS degree in Electrical Engineering.  Returning to Dothan, he worked for Alabama Power Company until called into active duty with the army in 1941.
After the war, Bill remained in the Army and was posted to Gunter Field, AL.  During this period he married Jane Isbell in November, 1947.  In June, 1949 Major Frazier completed the Advanced  Infantry Officers Training Course at Fort Benning, and was transferred to Fort Lewis, WA as Executive Officer of 3rd Battalion, 9th Infantry Regiment, 2nd Infantry Division.
The Division shipped out to Korea in July, 1950.   On September 28, 1950 he was wounded in the shoulder by an enemy missile at Yongsan, North Korea.  After R & R in Japan, he rejoined his unit and returned to combat on October 17, 1950.  Major Frazier was killed in action while fighting the enemy near Pugwan, North Korea on November 13, 1950.  For his service in North Korea, he received the Purple Heart with Oak Leaf Cluster, the Combat Infantryman's Badge, the Korean, United Nations, and National Defense Service Medals, the Korean Presidential Unit Citation and the Republic of Korea Service Medal.  After temporary burial in Pyongyang, North Korea, he was reinterred in August, 1955 in Arlington National Cemetery.
Jane Isbell Frazier Conley
Jane Isbell was born in Guntersville, AL on September 14, 1917, a daughter of Leila E. and Col. D Isbell.  As a thirteen year old, she was awarded the Carnegie Hero Medal for saving the life of a friend.  She entered the University of Alabama in 1935,  graduating in 1939 with a BA degree in English.  In college, she was active in Student Government, president of Zeta Tau Alpha Sorority, and president of her senior class.
After graduation she taught English in a high school for a year and then took a job in Washington, DC with Congressman Martin Dies.  By 1946 she had returned to Alabama and a job as Receptionist for Gov. Folsom.  Here she renewed a casual friendship and, in November 1947, married Bill Frazier.  Their only child, William, III., was born in September, 1949. Four months after Bill shipped out to Korea in July of 1950, she received word that Bill Frazier had been killed in action.
After several years she married Paul Conley, an officer with Gay-Tred Mills.  In 1976 she was awarded the Distinguished Alumna award by the U. of Alabama Alumni Association, and in March 2007 was made an Honorary Lieutenant Governor by then current Lt. Gov. Jim Folsom, Jr.
Biography written by James O, Sweeny, Clemson College Class of 1939.
Additional Information
Related Images Click to Enlarge
Extra Documents
Uncommon Hero – Vignette written by Kelly Durham for The Echo