William Henry Mooney, Jr.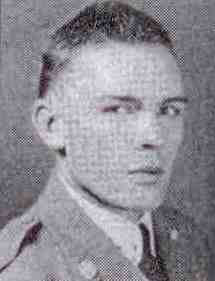 Army Air Force, Captain

357th Fighter Group

Oct 3, 1918

Dec 24, 1944

KIA - Shot down and then murdered after parachuting to safety over Germany.

He was originally buried in the city cemetery in Laubach, Germany. In 1946 his body was moved to the US and he was buried in Riverdale Cemetery, Columbus, GA. His body was later disinterred and buried in Pulaski-Bleckley Memorial Gardens, Bleckley County, GA

NE
Additional Information
Summary Missing Air Crew Report #11329, A/C SN 44-11198 – 1LT Mooney was shot down over Germany on Christmas Eve 1944.  Mooney was a P-51 pilot assigned to the 362nd Fighter Squadron of the 357th Fighter Group based at Leiston, England, about 90 miles northeast of London near the North Sea coast.  At approximately 1425 hours on 24 December, Mooney was piloting his P-51D fighter, nicknamed "Libby B", on a bomber escort mission in the vicinity of Frankfurt, Germany.  A flight of Focke-Wulf 190 German fighters were identified closing with the bomber formation from the vicinity of Fulda and Mooney and other pilots from his formation closed to attack them.  When last seen by 1LT Jesse Frey, Mooney had engaged an FW-190 in aerial combat.  Several squadron pilots reported an olive drab P-51 on fire and saw its pilot bail out.  Since "Libby B" was painted this color, it was believed to be Mooney.
William H. Mooney was born on October 3, 1916 in Hawkinsville, GA.
Very little information concerning the younger days and early service of Captain Mooney has not been found to date.  One reason may be that at the same time of his death, a B-17 #44-40172 "Greaseball" was shot down in the same area.  Among the seven surviving crew members who were taken as POWs was the navigator, a Lt. William H. Mooney.  Evidently, these records have merged over the years so research in this area is hard.
Captain Mooney left Clemson College in 1939 and his enlistment record shows he was employed in the textile manufacturing business.  He entered the service on February 4, 1941 at Fort McPherson in Atlanta, Georgia.  He was accepted for Aviation Cadet training and probably graduated in the fall of 1943 and was assigned to the 375th Fighter Group.  When this unit deployed to England in December 1943, he was on the roster.
The first combat mission of the 357th was flown on February 11, 1944.  The 363rd Fighter Squadron was usually tasked for bomber escort and fighter sweeps.
On the mission that was flown on December 24, 1944, Captain Mooney did not return.  His wingman, Lt. Jesse Frey added this to the Missing Air Crew Report (11329) that was filed: "Captain William H. Mooney, Jr, 363 FS and I were flying Dollar spare, above and behind Dollar Red Leader.  When the FW-190s were called in below us in the vicinity of Fulda, Germany, Captain Mooney split-essed into the trailing gaggle of FW-190s.  A 190 broke into him…. Several pilots testified they observed an olive-drab P-51 on fire, and the pilot bailed out.  Because Captain Mooney's aircraft was that color, we assumed it was he."
There are several translations of Luftwaffe documents filed with Mooney's MACR, all of which indicate the aircraft was totally destroyed and the pilot dead.  But other documents and events came into play after the war ended.  Mooney was buried in the Community Cemetery in Laubach, Germany.
In August 1945, Quartermaster Graves Registration unit was investigating missing airmen when the Mayor of Laubach stated that there was an incident in which "The pilot made a crash landing and then was shot by a man named Hoffman."  The authorities discovered this individual was in a prison camp near Marburg.
Hans-Peter Keller (who was 14 years of age at the time and witnessed the affair) testified at the war crimes trial of the accused man named Hoffman.  In his testimony, Keller stated the pilot parachuted to ground safely, but was apprehended by a German military person and a long-time member and official in the Nazi Party, the accused Hoffman.  The two marched Mooney toward the town of Jubach where he would be turned over to the authorities.  Hoffman left, went home, and returned wearing his Party uniform and carrying a revolver.  As the trio moved on, Hoffman suddenly fired one shot into Mooney.  Mooney staggered and Hoffman fired again.  Mooney fell to the ground.
Hoffman retrieved a horse and wagon and carried the body to the village of Laubach where a pathologist confirmed the identity, entered in his report there were two gunshot wounds, and Mooney was then buried in the local cemetery with no marker at his grave.
Hoffman was tried, convicted of murder, and sentenced to be hanged.  His appeal was denied and he was hanged at Landsburg War Crimes Prison in August 1946.
Mooney's father requested that the remains of his son be returned to the U.S.  Captain William H. Mooney, Jr, now lies in Riverdale Cemetery in Columbus, Georgia in Plot 137, Section 13
Note:  Starting in February 1944, Captain Mooney received credit for shooting down 7 BF-109 fighters, an FW-190, and sharing kills on a BF-109 and on a ME-410, giving him 9 kills.  He was flying P-51D # 44-11198 "Libby – B" that he had acquired from Lt. Otto D. Jenkins, previously nicknamed "Toolin' Fool's Revenge."
Copied from: https://airforce.togetherweserved.com/usaf/servlet/tws.webapp.WebApp?cmd=ShadowBoxProfile&type=Person&ID=11937
New info 8/27/2013 Relocated by Fisher funeral home in Cochran, Bleckley Co. Ga. to Pulaski / Bleckley Memorial Gardens
Related Images Click to Enlarge
Extra Documents
Vignette in The Echo written by Kelly Durham – Not All the Danger Was in the Skies