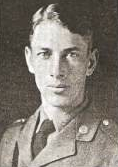 1926

Agronomy

Cadet Private, Private, Sergeant, Lieutenant Colonel; Ag Society, VP of Omnatidae

Jonesville, South Carolina

Survivors included his widow and two daughters, Nina and Carolyn Douglass of Norfolk; two brothers, Robert J. Douglass, and Francis A. Douglass. 

Army, Lieutenant Colonel

319th Infantry Regiment, 80th Infantry Division

Purple Heart

1902

Oct 7, 1944

KIA - France

Lorraine American Cemetery, Plot J, Row 23, Grave 10

SE
Additional Information
The following was provided by Bruce Smith, Historian, 80th Division Veterans Association:
We do  have a copy of a manuscript that was self-published by Bill Kriehbiel, Company L of the 319th Infantry, called "The Pride of Willing and Able."   He references LTC Douglass on page 57:
"Sat 7 Oct 44.   3rd BN units move into position from which to mount planned attack scheduled for next day.  2nd Bn 319th Inf Commanding Officer Lt Col William J Douglass is KIA by enemy small arms fire while on recon on Hill 340."
Further, on page 59 and 60, a direct quote from Sgt Christenson, 2nd Platoon, describes the attack on Mt. Toulonand gives a detailed account of the activities.  At the end of his quote, Sgt Christenson also mentions the loss of LTC Douglass in that attack.
Related Images Click to Enlarge
Extra Documents
Vignette in The Echo written by Kelly Durham – "When He Has Something to Do, He Is About It"