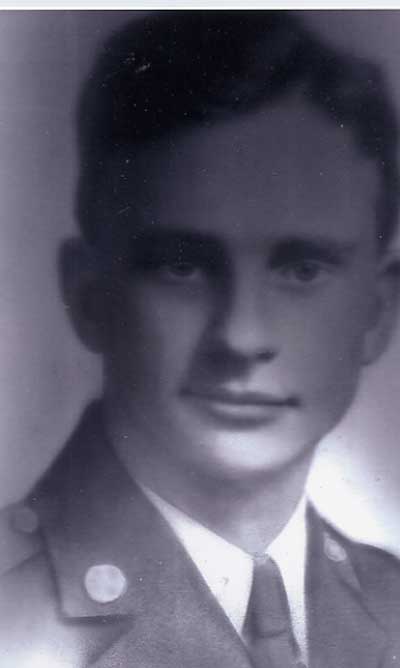 1945

Agriculture / Animal Husbandry

Saluda, SC

Wife: Mildred Barnes

Army, Sergeant

Company M, 23rd Infantry Regiment, 2nd Infantry Division

Purple Heart and Bronze Star Medal "For exceptional meritorious service against the enemy for the period July 6 to August 6, 1944." Purple Heart

May 21, 1924

Apr 16, 1945

Killed in Action at Merseburg, Germany.

Butler Methodist Church, Saluda, SC

NE
Personal Remembrances
Honored by his sister, Louise A. Murdock, on the World War II Memorial website.
Additional Information
Activities of the 2nd Infantry Division:
After exploiting the Saint-Lo breakout, the 2nd Division then advanced across the (Vire) to take (Tinhebray) on August 15th 1944. The Division then raced toward (Brest/France), the heavily defended port fortress which happened to be a major port for German U-Boats. After 39 days of fighting, the Battle was won, and was the first place the Army Air Coprs used Bunker bursting bombs.
The Division entered Germany on 3 October 1944, and the Second was ordered, on 11 December 1944, to attack and seize the Roer River dams. The German Ardennes offensive in mid-December forced the Division to withdraw to defensive positions near Elsenborn, where the German drive was halted. In February 1945, the Division attacked, recapturing lost ground, and seized Germund, 4 March. Reaching the Rhine on 9 March, the 2ID advanced south to take Breisig, 10-11 March, and to guard the Remagen bridge, 12 March to 20 March.
The Division crossed the Rhine 21 March and advanced to Hadamar and Limburg an der Lahn, relieving elements of the 9th Armored Division, 28 March. Advancing rapidly in the wake of the 9th Armored, the 2nd Infantry Division crossed the Weser at Veckerhagen, 6-7 April, captured Gottingen on 8 April, established a bridgehead across the Saale, 14 April, seizing Merseburg on 15 April. On 18 April, the Division took Leipzig mopped up in the area, and outposted the Mulde River; elements which had crossed the river were withdrawn 24 April. Relieved on the Mulde, the 2nd moved 200 miles, 1-3 May, to position along the German-Czech border near Schonsee and Waldmunchen, where 2 ID relieved the 97th and 99th ID's. The division crossed over to Czechoslovakia on 4 May 1945, and attacked in the general direction of Pilsen, attacking that city on VE Day.
Extract from: https://wapedia.mobi/en/2nd_Infantry_Division_(United_States)
Related Images Click to Enlarge
Extra Documents
Echo Profile by Kelly Durham – Career Cut Short