William Patrick Kavanaugh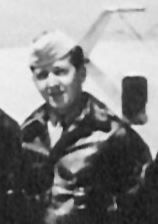 1946

Agriculture

Annapolis, MD

Husband of Vivian R. Kavanaugh who resided in Missouri.

Army, Staff Sergeant

Purple Heart

Jul 19, 1923

Feb 9, 1945

Killed in Action in Croatia

Jefferson Barracks National Cemetery, Section 82, Site 63

SE
Additional Information
MACRE# 12361 Location: Velika Brisnica, Italy Type of Mission: Combat Date: 9 Feb 1945 Aircraft Type/Model: B-24H Aircraft Serial Number: 42-7563   List of Crew: Pilot                     Maxwell, Robert W.               1st Lt.        MIA Co-Pilot                Marcus, Frank E., Jr.            2nd Lt.        MIA Navigator             Cervantes,Fracis I.               2nd Lt.        MIA Bombardier           Jackson, Robert C.              2nd Lt.        MIA Engineer               Tetzloff, Lionel A.                 S/Sgt.         MIA
Radio Operator   Kavanaugh, William P.     S/Sgt.        MIA
Tail Gunner           Ellliott, William W.                  Pvt.           MIA Waist Gunner         Jones, Kyle B.                     S/Sgt.         MIA   The official cause of the aircraft going down is unknown.  Crews from aircrafts on the same mission reported seeing what they believed to be an explosion in mid-air and a large fire soon after on the ground; however, cloud conditions prevented the crew members from determining whether or not the explosion was actually an aircraft on fire.  No parachutes were observed.
Related Images Click to Enlarge
Extra Documents
Carpenbagger – Vignette written by Kelly Durham for The Echo