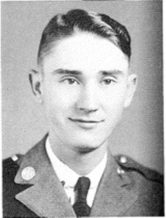 1941

Vocational Agricultural Education

Cadet Second Lieutenant; Wesley Foundation Council; F.F.A.

Loris, South Carolina

Wife, Doris Cribb Bellamy; and daughter Lynn

Army, Captain

Company M (Heavy Weapons), 317th Infantry Regiment, 80th Infantry Division        

Purple Heart, Bronze Star w/Oak Leaf Cluster, Combat Infantry Badge  

Dec 20, 1917

Sep 25, 1944

Killed in Action - Captain Bellamy died of wounds from shrapnel.  His location of death is approximated to be in the Moselle River Valley Engagement, Vicinity of Atton.  Likely 1 mile North East of Bratte, France on La Haie Ridge due to their location around the 25th.

He was originally buried in the temporary Andilly US Military Cemetery (Lay Saint Remy, France), Plot B, Row 7, grave 156. The cemetery was established on September 12, 1944 (now restored to farmland and original owners).  His remains returned to the US approximately November 28th, 1948 and permanently buried in the Bellamy Cemetery (Longs,SC).

NE
Additional Information
GENERAL INFO:
-Captain Glenn Gordon "Gee Gee" Bellamy -Infantry Platoon Leader (according to MOS# 1542 listed on the report) – General Patton's 3rd
Army, 80th Infantry, Blue Ridge Division, 317th division, 3rd Battalion, Company M – Officers Training School at Fort Benning, GA – Further training in Camp Forrest, TN and from there went to Kansas, Colorado, and then to Yuma, AZ for desert training.  He was also in Pennsylvania and Fort Dix, New Jersey before deployment.
The above information provided by Christopher Bellamy, a relative.
Captain Glenn Gordon Bellamy was with Company M, 317th Infantry Regiment, 80th Division.  Company M was the Heavy Weapons company of the 3rd Battalion.  It is not known if Captain Bellamy was the CO or mortar man (81mm mortars) or a machine gunner (30 cal MGs), but most likely, if he was not the Company Commander, he would have been a platoon or section leader.  Usually, the CO was a captain and the platoon/section leaders were Lts.
He can be found listed on the 29SEP44 Morning Report as KIA
https://www.80thdivision.con/MorningReports/SEP44/MR317M_SEP44.pdf
He is also listed as KIA in the report
https://www.80thdivision.com/MiscReports/317th_LossesinAction_SEP44.pdf
As told from some reports, the 3rd Battalion was ordered to follow the 318th IR in the attack on Mt. St. Jean.  This was right after the Moselle River crossing.  This can be found in the 317th September Report (parts are missing): https://www.80thdivision.com/UnitHistories/317thInfReg_UnitHistory_SEP45-partial.pdf
Another report (p 29) indicates that "the 3rd Bn remained in position on the LA HAIE RIDGE, protecting the right flank and rear of the 318th Infantry."
https://www.80thdivision.com/UnitHistories/80th_OperationalHistory_SEP44_Sec4.pdf
The above information was provided by the Historian of the 80th Infantry Division.
Related Images Click to Enlarge
Extra Documents
Glenn Gordon Bellamy was killed as his division led Patton's spearhead across France – Vignette in The Echo written by Kelly Durham